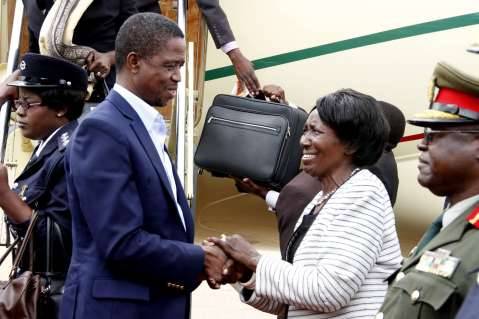 Vice President Inonge Wina has urged the African Union to ensure that the Gender Equality Criteria is included in the African Peer Review Mechanism in order for governments to adhere to commitments made during conferences.
Speaking during a High-Level Breakfast in the African Union in Addis Ababa, Ethiopia today on  28th January 2018, Mrs Wina said it was important that commitments made by governments on gender equality were binding.
Mrs Wina who is Zambia's First Female Vice President urged African Governments to appoint women in decision making positions to enable them to contribute fully to their country's economic development.
"I can guarantee that if more women were in decision-making positions, Africa would be a better place to leave it", Mrs Wina said.
She also called for the inclusion of more women in Arbitration Committee in order to enable them to take part in efforts to end conflicts in Africa.
Mrs Wina has further urged African Governments to entrench affirmative actions in their policies to allow for more representation of women in politics.
She said in many African states it is difficult for women to be retained in politics.
Mrs Wina expressed concern at the marginalization of women in politics due to social norms that discourage the participation of women in politics.
The Vice President is in Ethiopia to attend the 30th African Union Heads of Stats and Government Summit.
The summit that is expected to open soon is under the theme Winning the Fight Against Corruption: a sustainable path to Africa's Transformation.
Speaking earlier, South African President Jacob Zuma acknowledged the need for African governments to appoint more women in decision making positions.
He said his government is focused on ensuring that women also participate fully in National Development.
Ghanaian President Akufo Addo who is also African Union Champion on Gender said it was time that African Countries affirmed their commitment in ensuring that women are given adequate opportunities to participate in their country's economic developments.
And UN Secretary General Antonio Guterees called for political will among African Countries in order to reduce the gap between Women and men in decision making.
He said Africa was not short of competent women to fill in decision-making positions.
Issued by
First Secretary – Press and Tourism – Zambia Embassy – Addis Ababa, Ethiopia