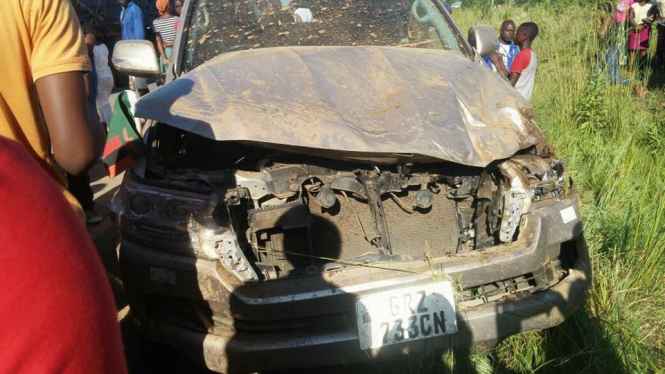 The 7 year old boy who was left hospitalised after the accident involving Southern Province Minister's official vehicle has been discharged from Livingstone Central Hospital and reunited with his family.
Father to the boy, Gift Siachisamu has described his son's speedy recovery as a miracle.
Mr. Siachisamu who has identified his son as "God bless Siachisamu" says his son's recovery is evidence of God's hand upon his life and the effectiveness of prayer.
The elated father has since the Church and Voice of Kalomo for the prayers and support rendered during the ordeal.
He narrated that according to medical personnel, "it is fortunate that the sustained cut on the forehead was not too deep and did not affect the boy's skull."
Mr. Siachisamu disclosed that "God bless" was discharged on Wednesday, 24th January, 2018 and has since been reunited with family, to the delight of his siblings and he is hopeful that his son will be able to attend school soon.
The accident happened on Sunday morning, 21st January, 2018 after Kalomo District Hospital layby on the Lusaka – Livingstone Highway.
This is after the minor who was in the company of his 12 year older brother allegedly rushed on the busy road in an attempting to cross towards Bridge Park area from German compounds where he had followed his elder brother to buy sugar.
The Toyota Land Cruiser registration number, GRZ733CN, the official vehicle for Southern Province Minister, Edify Hamukale is said to have clipped the boy with its rear side and veered off the road in efforts by the driver to completely avoid the boy, sending the vehicle in a frantic swerve off road and overturning repeatedly before grinding to a halt after a considerable distance.
Voice of Kalomo Community Radio Station