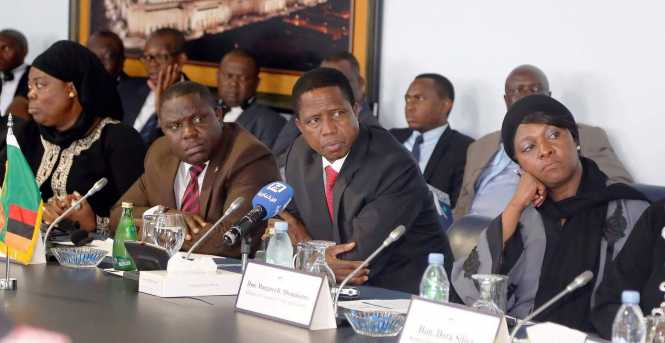 Special Assistant to the
President for Press and public relations Amos Chanda says President Lungu's trip to Saudi Arabia is aimed at addressing fuel, food security,
tourism and economic diversification of the country.
Mr Chanda told journalists in Jeddah yesterday that the Head of State was
happy that Saudi King Abdullaziz Al Saudi is leading efforts in encouraging
investment to Zambia.
ZANIS reports that Mr Chanda said President Lungu would source 100 hectares of land per province reserved for farming blocks to be allocated to Saudi farmers for agricultural production.
On tourism, Mr Chanda said efforts are being made for investors in the tourism sector to tap on Zambia's potential and scale up reciprocal tourism where Zambians and Saudis can visit either country.
Mr. Chanda noted that in February this year, Zambia signed a contract with
Saudi Aramco to supply 120,000 barrels of petrol and 180,000 barrels
of diesel under the US 20 million concessional arrangement with the Saudi
Fund for Development.
The presidential spokesperson said the US$ 20 million concessional financing agreement is likely to be adjusted upwards during bilateral meetings between Energy Minister Dora Siliya and her Saudi counterpart.