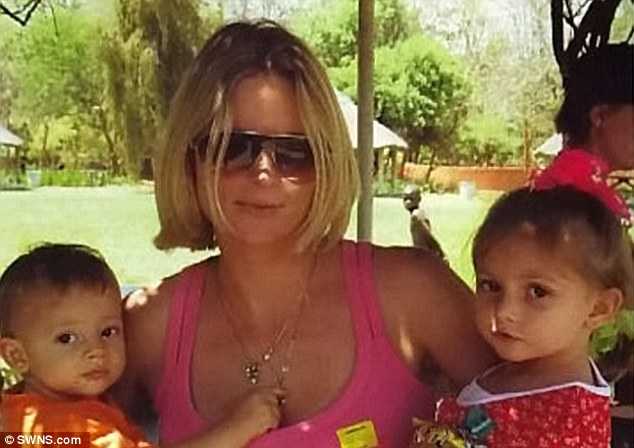 Mother of two, 36, who struggled through an eight-year custody battle killed herself because she could not face another Christmas without her children
Mother had lived in Zambia with her husband and children but couple split
Court in the African country gave custody of the children to the father
Mother moved back to Britain but suffered depression and drug addiction
She killed herself after being unable to give children Christmas presents
A mother-of-two who lost an eight-year custody battle over her children killed herself because she couldn't face Christmas without her children.
Jessica Linehan hanged herself in her father Charles's home just before last Christmas because she was unable to see her son and daughter – who were in Zambia with their father, an inquest heard.
The 36-year-old recovering heroin addict left no suicide note but had bought Christmas presents for her children, Ashiana, 11, and nine-year-old Daniel.
Jessica was prevented from seeing her children by her lawyer ex-husband, who retained sole custody using the Zambian court system.
Her inquest heard she became hooked on heroin while being treated for depression at the clinic in Maidstone, Kent.
Her mother Caroline said she had a breakdown while in Zambia in 2010 and was brought back to Britain.
She added: 'She went to Pathways in Maidstone who ascertained she was not an addict. She used when she couldn't cope with losing her children.
'She was an amazing mother who lived for her children and through no fault of her own was not allowed to be that person.'
Ms Lineham had originally moved to Zambia from Tunbridge Wells, Kent, when she was seven.
In July, she travelled back to Africa, where her children lived with her ex-husband, to see them for the final time.
She had hoped to make plans to see them both at Christmas.
However, an agreement could not be reached with her ex-husband and when her mother spoke to her in November she was resigned to spending another Christmas alone.
The following day she hanged herself.
Mrs Lineham said: 'Her mental health deteriorated each time she had to leave the children. She was self-harming and had taken an overdose. She couldn't see a life without them in it.'
At an inquest at Gravesend Old Town Hall last month, coroner Roger Hatch recorded a verdict of suicide.
Read more: http://www.dailymail.co.uk/news/article-3493259/Mother-lost-children-custody-battle-killed-Christmas.html#ixzz43EAfPOF5