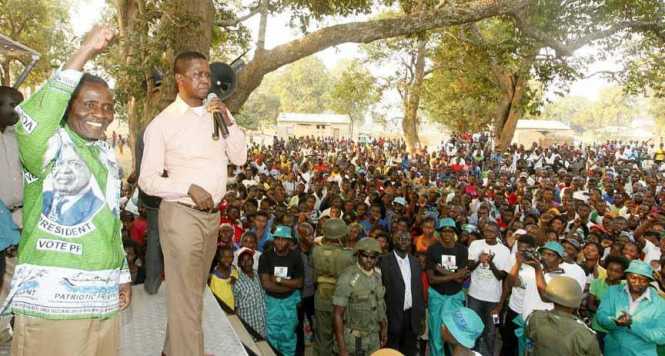 By Joe Mwansa Lombe Kaluba
When the constitution bill was signed a number of political commentators said that the action by President Edgar Lungu had opened a new page in our political and democratic process. In agreeing with this notion I also feel that as much as the page has been opened many political players may not even know and later understand what is written on the piece of paper.
Why do I say so? I think the rate at which our politics are changing has left a lot of people behind in a lot of things. In this regard politicians are making a lot of popcorn pronouncements, voters are not sure what to believe and more importantly the social movement including the media look lost in some way. This state of affairs in an election year is in my opinion very dangerous for everyone as mistakes are prone to be made. Political parties will end up costing themselves elections.
Politics call for being smart, being patient and reading between the lines. A party should see or rather know if there is need to do one thing or not. A lot of questions ought to be asked. For example with the 50 plus 1 clause in the constitution. Do you as a political party need to work with other parties and if yes why? What is the broad feeling of your general membership. What is the strength of the would be partner? Is the pact going to add value to your party and chances of winning elections? These are some of the questions parties and their leaders should ask.
One thing people should also know is that a political organisations especially in Africa is/are not like a company which has shareholders or shares. When two groups merge with 50(%) shares each the total will be 100. To the contrary when two or more political parties come together that might not be the case. There is membership or the support base to talk about. Political pacts which are mostly done by party leaders my lose the party or candidates support. So proper homework should be done before doing so.
In this regard in my opinion I don't think some political organisations need to enter in an agreement with others. For instance I don't know why there is talk for/or of the ruling Patriotic Front going into partnership with the Movement for Multiparty Democracy (MMD). In my view MMD needs PF more than the ruling party needs the former ruling party.
PF doesn't need any accord with any party to win this year's elections. It will be easy to win alone than with any party mostly MMD. I know not everyone in MMD is wanting but I think it is a mistake. What I think President Lungu and PF should do is a Mwitonyamo Nga Tamuleshita(Don't squeeze if you are not buying ) thing. I will take MMD as a basket of fruits-some good and some not. Tomfya tomfya(squeezing gently ) them and get the ones that are good.
Without mention of any names I think in contemporary politics especially in a young democracy like ours talking to individuals is the ideal thing to do. Some members of either MMD or United Party for National Development(UPND) would work well for PF than the whole party. According to my own assessment I think without any Political Party Pact PF will win between 89 and 103 of the 150 constituencies. With that President Lungu will win without us going for a re-run. PF has no competition so going into a Pact with a party like MMD will just reduce chances of winning.
In this regard I think decisions like going into a pact with any party should not be done at the secretariat but on the ground. The Members of Central Committee(MCCs) will not win PF elections this year. It will be the work being done by people on the ground that is going to win PF elections. It is the work done by a lot of young people who have gone flat out in campaigning for the party that is going to win President Lungu the August elections.
So for me doing a treaty with MMD will be seen by many as betrayal. I don't understand why a party that has brought massive development will be worried of losing elections. PF didn't need any pact in 2011 and in 2015. Even this year I am very certain no pact is needed. As I said above some few individuals can be talked to. Going for the entire MMD is suicidal in my opinion.
With the confusion about erupt in some parties there is no need to panic. There are a lot of smart people in PF let them advice the President well otherwise people will start to question his leadership. PF has no threat whatsoever. Therefore President Lungu should not let fear get to his skin. Zambians who have seen many developmental projects have President Lungu's back. So he has to be careful what he does between now and 11th August as it will cost him and PF elections.
Have a fruitful week
Joe Mwansa Lombe Kaluba MA
PhD Candidate-Political, Gender and Transnational Studies