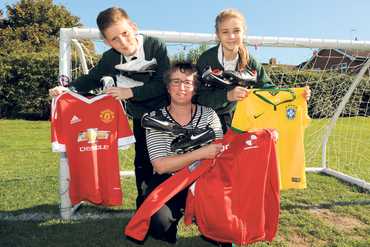 Nottinghamshire Pupils are being urged to donate their unwanted football kit and equipment to children less fortunate than themselves.
Staff at Chuter Ede Primary School, Balderton, have teamed up with the National Police Aid Convoy, which distributes aid to developing countries.
The charity will take boots, shin-pads, goal-keeping gloves, shirts, shorts and any other football kit to children and young people in Zambia.
Many children there play football in ageing, worn-out boots, which they have long since outgrown, and do not have the right kit to play in.
It is hoped that with the new equipment they will be able to form their own football league.
A police aid convoy van will collect the items at Chuter Ede, Wolfit Avenue, on Tuesday, from 3pm to 4.30pm.
Grants administrator Mrs Julie Ford, who is behind the project, said: "My son has a new pair of boots at the start of every season and I have got several pairs at home because they want the latest boots that the professional footballers are wearing.
"I thought there must be a way of getting rid of these."
'I thought it was a great idea'
Mrs Ford asked the aid convoy, which has a clothing bank at the school's Balderton and Fernwood sites, if they could help.
"I think the children will be kind and generous with what they have got," Mrs Ford said.
"The National Police Aid Convoy thinks it's a great project and ties in with what they already do.
"We have got two teams that are successful locally and a lot of our children play football.
"When they think someone less fortunate than themselves doesn't have nice boots to play football, they can relate to that."
Head girl Hope Watson, 10, who plays for Lincoln Ladies under-10s, will be donating a Manchester United shirt, a Brazil shirt and a pair of shorts.
"I thought it was a great idea and I thought I could give away some of my stuff because I don't really need them," she said.
"It's good that we are giving it to children in Zambia."
Head boy Lucas Rudd-Hearn, 10, who plays for Warriors FC under-10s, will be donating some trainers he has outgrown.
"It's good that everyone will get some football stuff," he said.
The Newark Advertiser