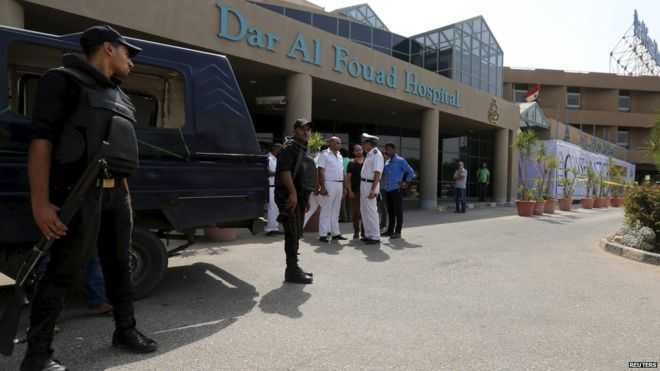 Egypt has apologised after 12 people, including eight Mexican tourists, were mistakenly killed by security forces in an anti-terror operation.
The group had permission to travel to a remote area of the Western Desert, tourism officials said.
However the interior ministry insists they entered a restricted area.
Egypt has been battling Islamist militants for years, with attacks escalating since the 2013 ousting of Islamist President Mohammed Morsi.
While the vast Western Desert is a popular tourist site, it has become increasingly dangerous because of the deteriorating security situation in Libya.
Ten Mexicans and Egyptians were injured in the operation. Security officials put the number of Mexican tourists killed at eight, although this is yet to be confirmed by Mexico, with four Egyptians dead.
Egyptian Prime Minister Ibrahim Mahlab offered his apologies in a phone call to the Mexican ambassador in Cairo, the Al-Yawm al-Sabi website reported.
"I have phoned Mexican Ambassador Alvarez Fuentes to reassure him that the injured are receiving proper medical care and that the government apologises for the foreign casualties," the website quoted him as saying.
Analysis: Katy Watson, BBC News, Mexico City
This is a story that Mexicans are following closely. It is front-page news and leading the television bulletins.
But for now, reporters are limited in what they can say – there are still lots of unanswered questions and journalists here are having to do with scant information from the authorities.
A press conference was held by Foreign Minister Claudia Ruiz Massieu early on Monday morning. It was short and journalists were not allowed to ask questions.
So there is still no final number on those who have died. Mexican authorities will only confirm the deaths of two nationals, sources in Egypt say that there were eight Mexicans who died in the attack.
And people here also want to know is who was at fault: there is a feeling here that Egypt is pinning the blame on the travel agency, that these tourists should not have been in the area that they were in. The travel agency denies this was the case.
Mexico's president and his foreign minister have called for an exhaustive investigation to get to the bottom of what actually happened on Sunday.
Mr Mahlab also said the incident took place "by mistake as the state continues to fight terrorism".
Survivors told the Mexican ambassador they had been bombed by helicopters and aircraft when they stopped for a break.
The head of the Egyptian Union of Tour Guides, Hassan El Nahla, posted online what appeared to be an itinerary sent to tourism police.
He told the BBC the group had a police escort and travelled through several checkpoints before coming under fire.
An Egyptian interior ministry statement (in Arabic) had earlier said the incident happened on Sunday in an area "off limits to foreign tourists", although it did not give an exact location.
It said they were "mistakenly dealt with" while travelling in the Wahat area of the Western Desert.
The security forces were pursuing Islamic militants in the desert and targeted the four vehicles which were away from the main road with an Apache helicopter, the statement added.
The Islamist insurgency in Egypt gathered momentum after the army overthrew President Mohammed Morsi of the Muslim Brotherhood in 2013 following protests against his rule.
Until recently most of the fighting has taken place in the Sinai Peninsula with occasional attacks taking place in Cairo and other cities.
BBC