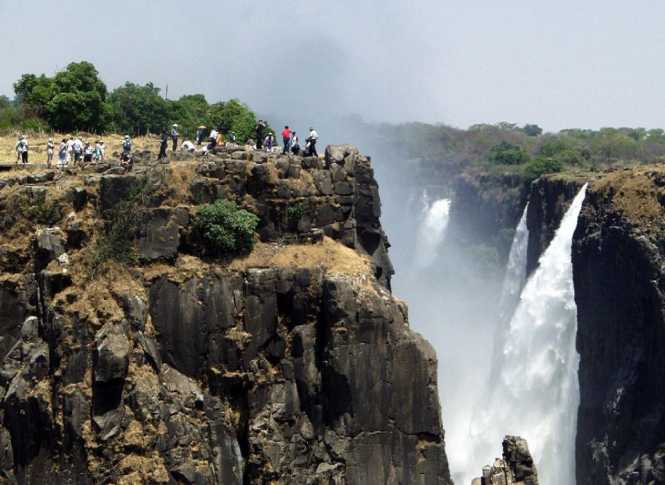 THE controversy of which side has a better view of the Victoria Falls has sometimes arisen among travellers since the waterfalls spans Zambia and Zimbabwe.
Unlike other cross-border waterfalls like Niagara Falls where you can say, "the falls are on the American side but the views are on the Canadian side," you can't really say that with the Victoria Falls.
Since colonial days, white settlers from the two countries vied to claim the seven natural wonders of the world blurring 'ownership' since the border cuts in the middle of the Zambezi River.
The Government has written to South Africa requesting that country to discontinue advertisements it has been running claiming that the Victoria Falls is one of its tourist attractions.
South Africa has been running advertisements wooing tourists around the world to visit that country and sample some of its tourist attractions, among them, the Victoria Falls which they emphasise is two hours away from its capital city.
Now South Africa has joined this silent war to claim responsibility of the falls through its aggressive marketing strategies centred on the waterfalls.
This has prompted Tourism and Arts Minister Jean Kapata to engage the Ministry of Foreign Affairs to request South Africa to discontinue advertising the falls as theirs just to woo tourists to their country.
She disclosed that British Airways which announced its withdrawal flying into Zambia was still landing into Livingstone from South Africa bringing tourists to view the Victoria Falls.
However, while agreeing with the concerns raised by the Tourism and Arts Ministry, we would want all stakeholders concerned with tourism to jack up standards of tourism in Zambia.
If we had upped our game on promoting the Victoria Falls to international standards, there is no way South Africa could have hijacked our cause to promote the waterfalls.
After failing to bring back the Broken Hill man skull and some Likishi masks being displayed in European museums, we should not let the Victoria Falls be 'taken' away from us.
The history of the falls is steeped in controversy from the time David Livingstone laid his eyes on it, giving it a name after the queen of England despite the natural wonder already having two local names – Shungu Namutitima and Mosi-Oa-Tunya.
The Victoria Falls needs according the attention it deserves to show that we hold it in high esteem as a tourist attraction.
TimesofZambia