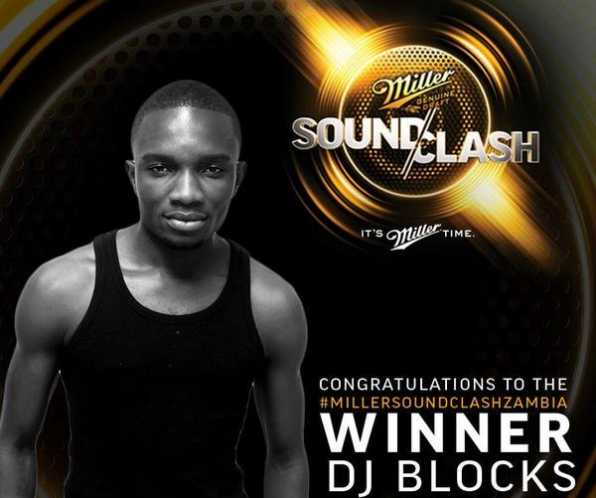 Lusaka-based DJ, Mutale Nshimbi, known as DJ Blocks of Club Vegas has emerged winner of the 2015 Miller Sound Clash Zambia competition and is now heading for Las Vegas in the United States.
The Miller Sound clash mixing extravaganza is aimed at finding the country's best DJ to represent Zambia at the worldwide final in the US clubbing capital of Las Vegas in September this year.
The competition took place at the Web nightclub in Lusaka after a five-day programme that saw six DJs reach the finals and battle it out for the coveted top prize.
The six finalists were DJ Ken, DJ Gavino, DJ Blocks, DJ Sebastien Dutch from Lusaka while DJ Fox and DJ Quake came from Kitwe.
At the same event Julias Mwewa also known as Sebastien Dutch, a full-time radio DJ on Rock FM was declared runner up of the competition.
The DJs were judged on a series of criteria, including mic use, flare, mixing ability and crowd appeal.
DJ Blocks is expected to experience the sizzling hotspot of Las Vegas and a supercharged high roller experience of capturing the bright lights of the elite clubbing scene in Las Vegas and a chance to be the ultimate winner of the prestigious 2015 Miller Sound Clash DJ competition.
The Miller international DJ search competition seeks to discover local talent and gives talented DJ's the experience of a lifetime.
Miller's Global Music Sound Clash is the ultimate international global DJ search competition that opens entries to all DJs globally hosted by Mix Cloud, a global music streaming service which offers a blanket music license and can legally host DJ mixes.
This is according to a statement released to ZANIS in Lusaka today by Lang mead and Bakers Communication.
Photo CReait : #MillerSoundClash2015