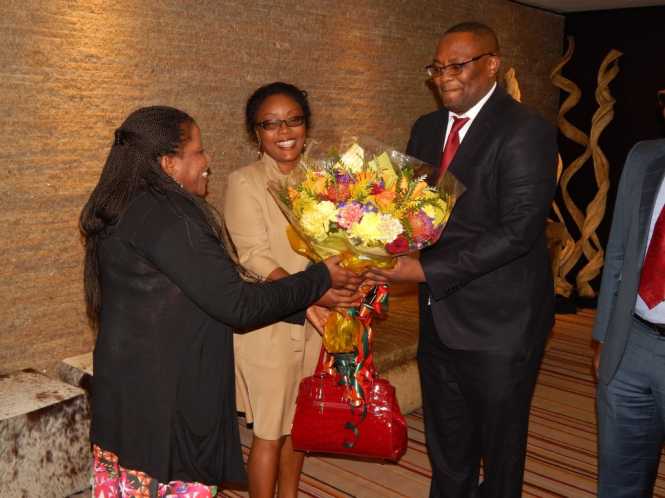 Zambia's High Commissioner designate to South Africa Emmanuel Mwamba has pledged to work toward ensuring that Zambia continues to benefit from the cordial relations that the country enjoys with South Africa and other countries of extra-accreditation.
Mr. Mwamba says he is looking forward to working with other diplomats at the Commission in Pretoria and the Zambian community in South Africa in order to fulfill the mandate given to him by President Edgar Lungu.
Mr. Mwamba, who was accompanied by his wife, Monde and children, was speaking on arrival at Oliver Tambo International Airport in Johannesburg, South Africa.
He was met on arrival by out-going Deputy High Commissioner to South Africa, Joe Kaunda and other members of staff from the Mission.
First Secretary for Immigration Mrs. Joyce Chimalilo presents a bouquet to Mr. and Mrs. Mwamba on arrival at Oliver Tambo International Airport on 7th August, 2015
And Mr. Kaunda says diplomats at the High Commission have been eagerly waiting for Mr. Mwamba so that they could quickly continue on the path of serving the nation.
Meanwhile former President Rupiah Banda has congratulated Mr. Mwamba on his taking up the role of Zambia's High Commissioner to South Africa.
Mr. Mwamba has taken over from Mr. Muyeba Chikonde who has been transferred to the United Kingdom.
This is contained a statement released to Qfm News by press secretary at the Zambian mission in South Africa Nicky Shabolyo.
QFM NEWS