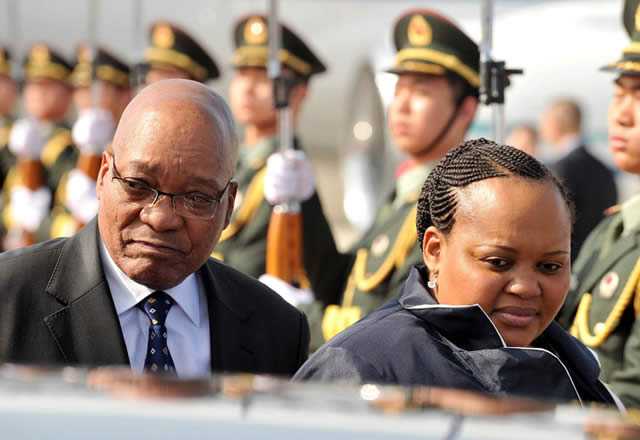 Estranged First Lady Nompumelelo ­Ntuli-Zuma has denied any involvement in or knowledge of an attempt to poison South African President Jacob Zuma. Her lawyers responded to reports in City Press and Rapport newspapers that they have "reliably learnt" of a plot to poison President Zuma and that the net is closing in on Ntuli-Zuma.
Ntuli-Zuma denies the allegations and says she was never involved in a plot to poison her husband, was not even aware of such a plot or "crumbled and confessed" to having knowledge of the plot.
The newspaper says authorities are on the trail of her alleged accomplices, which include a flamboyant KwaZulu-Natal businessman. Sources allege other local and foreign individuals are on the radar of investigators.
A docket has been opened by the National Prosecuting Authority and is being dealt with by senior prosecutors. Sources told City Press that MaNtuli has also made a statement to investigators and her affidavit contains "very interesting names".
Another source said the former first lady will be charged with conspiracy to commit murder.
"She hasn't been charged because we haven't been able to nab the man (or) people that are behind the plot," the source is alleged to have said.
Suspicions about a poison plot reportedly arose when Zuma became ill in June last year. "At some point we noticed that ubaba (Zuma) was very sick and it had nothing to do with the routine check-ups. He was really sick," a law-enforcement insider is quoted as saying.
When it became clear that he had been poisoned, suspicions fell on his wives. Most fingers pointed in the direction of MaNtuli, who then allegedly crumbled and confessed to having knowledge of the plot.
MaNtuli's solicitors say the newspapers made no attempt to verify the correctness of the allegations or give her an opportunity to respond to the allegations, as required under common law and the rules of the Press Council of South Africa. She is considering her legal options.
They do admit that there is an ongoing investigation as referred to in the articles, she has provided her full co-operation as requested by the relevant authorities and can confirm that no charges have been brought against her. — The South African.