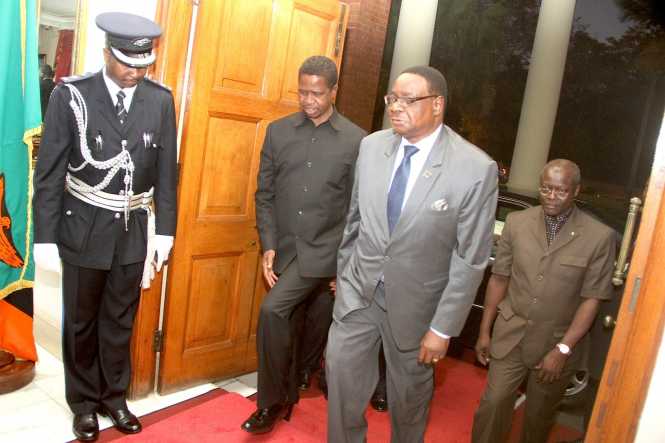 Malawian President Peter Mutharika has paid glowing tribute to Frist President Kenneth Kaunda's contributions towards the liberation of the African continent.
Professor Mutharika said Dr Kaunda played a pivotal role by committing and sacrificing himself and Zambia in ensuring that countries such as Namibia, Zimbabwe and South Africa are liberated from colonialism.
The Malawian leader told Dr Kaunda that the famous song he coined of Tiyende Pamodzi is being used as a unifying factor across Africa citing Mozambique and his country Malawi where the song is being used to galvanise people for national development.
ZANIS reports that Professor Mutharika, who is accompanied by his wife Gertrude, Ministers of Agriculture and Foreign Affairs and government officials, was speaking when he paid a courtesy call on Dr Kaunda at his residence in State Lodge area in Lusaka today.
The Malawian leader, who sought Dr Kaunda's secret of health and youthfulness, said that Zambia's First President was a living testament that there is life after politics.
He commended Dr Kaunda for being the first African leader to fight against the HIV/AIDS scourge on the continent and promoting related health intervention programmes.
Professor Mutharika urged African leaders resisting to leave office to emulate Dr Kaunda whom he said has been supporting to all successive Presidents in their work.
President Mutharika said he was impressed with the robust infrastructure development taking place in Zambia and that Malawi is trying to emulate Zambia so that his country can attain the middle income nation status by 2020.
Professor Mutharika further said he was happy with what he saw at the 2015 Agricultural and Commercial Show in Lusaka and instructed his Agriculture Minister Allan Chiyembekeza to ensure that Zambian companies attend Malawi's trade fair next year.
And speaking earlier, Dr Kaunda, said he was elated to receive President Mutharika and his wife Gertrude in his home.
Dr Kaunda described the Malawian leader as a humble man and urged him to embrace God in his presidency and practice love in serving Malawians.
Malawi's Foreign Minister George Chaponda was reunited with Dr Kaunda after many years as he was once appointed by the former head of state to be the Chief Executive Officer for Contract Haulage.
Dr Kaunda later led his guests into singing the famous Tiyende Pamodzi song much to the delight of the Malawian leader and his delegation.