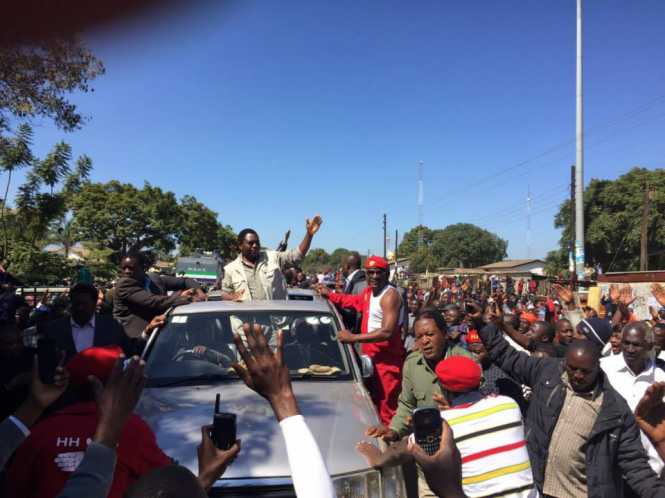 THE ostensibly United Party for National Development (UPND) stronghold of Mazabuka suffered a blow yesterday with 150 of its members quitting the party and joining the Patriotic Front (PF).
Former Mazabuka UPND youth chairman Obbrey Muchimba said the decision was inspired by the desire to work with the PF, which is keen on youth empowerment.
Mr Muchimba, who is chairperson of the Mazabuka Bus Drivers' Association, said the PF has shown that it is not a tribal party.
"We are tired of voting on tribal lines and it has not helped us. We have realised that voting on tribal lines can divide the nation, and as peace-loving youths, we have ditched tribal politics and joined the PF," he said.
Mr Muchimba urged the UPND to brace itself for more members quitting the party as the youths will now go flat out to get the "whole" district to join PF.
Receiving the new members, PF interim mobilisation chairman Paul Moonga said the massive swelling of the party ranks is a result of President Lungu's quality leadership.
He said the nation will only develop if Zambians learn to support people with a good vision for the country.
"My fellow tribesmen, let us change and stop voting on tribal lines. In the January 20 presidential election, we were exposed to voting on tribal lines.
"Let us learn to vote for quality leadership and rise above tribe," Mr Moonga said.
He also urged Mazabuka residents to respect national leaders because they are ordained by God.
Mr Moonga urged Mazabuka residents to mobilise more people to join the PF and support President Lungu.
He said the party in Mazabuka should integrate new members in the party structures.
Mr Moonga said PF is an inclusive party which is ready to work with any committed member.
"I defected to PF a month ago. The party has welcomed me and have been given a position; a clear testimony that PF is an all-inclusive party," he said.
Mazabuka PF district chairperson Mwila Ngosa said the party is growing and will not relent in recruiting new members.
Mr Ngosa said Mazabuka is the engine of the PF in Southern Province.
He thanked President Lungu for listening to the cries of the PF in the district by appointing Jean Chirwa as district commissioner (DC).
Mr Ngosa said the party is committed to working with the new DC to help meet people's expectations and fulfil the PF's campaign promises.
Mr Ngosa also said party elections in the district are going on well. He said so far, the party has conducted ward, branch and constituency elections.
He said district elections will be held on June 7.
ZambiaDailyMail