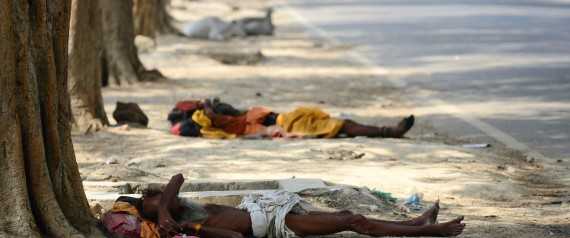 Over 500 people have died in a heatwave that has swept across India and is showing little signs of abating, officials said yesterday. The southern states of Andhra Pradesh and Telangana were the worst affected with temperatures reaching 48°C in some areas.
Heatwave conditions have prevailed in the region since April, but most of the deaths have been reported over the past 10 days.
In Telangana, 186 people had died of heat stroke since April 15, with more than 50 deaths since Sunday, state disaster management commissioner Bhambal Ram Meena said.
In neighbouring Andhra Pradesh, 246 people had died since May 18, with the Prakasam district accounting for 57 deaths, an official at the state disaster management department said.
Large swathes of northern and central India, including national capital New Delhi, were also in the grip of the severe heat wave.
A total of 35 related deaths were reported from Delhi and its outskirts while 24 deaths were reported from the eastern states of Odisha and West Bengal, state-run Doordarshan television reported.
Heat and dust-storms claimed more than 20 lives in the Madhya Pradesh, Jharkhand and Rajasthan states in recent days, local media reported.
Aid workers say the actual toll could be much higher as many of the deaths in remote villages go unreported.
Many low-income workers such as labourers and cycle-rickshaw drivers cannot afford to stop working to avoid the conditions.
India's Metereological Department declared a red alert for several states saying the heat conditions would persist for coming days.
Government officials in the southern states were struggling to provide drinking water and advised people not to step out of their homes or workplaces during the hottest hours between 11:00 and 16:00. — Reuters.