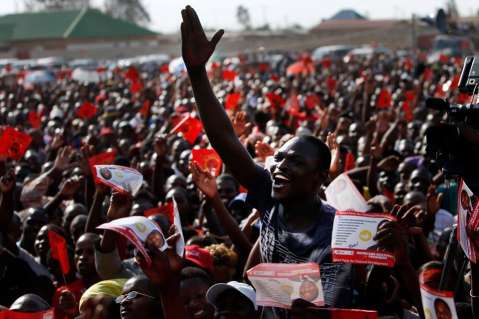 The opposition UPND is happy that the wage freeze debate is over now that President Edgar Lungu has lifted the freeze that was imposed on public service workers.
The UPND however notes that it was expected that President Lungu wanted to allegedly play a political card on this move.
UPND Chairman Labour and Industrial Relations, Percy Chanda says much as his party celebrates the victory of a fight it has been fighting since 2013 it is immediately dismayed by the deadline of 2015 for which negotiations for new condition of service for public service workers must be concluded.
In a statement made available to Qfm News Mr. Chanda notes that at that time the Appropriations Act that authorizes Government spending for 2016 would have already been passed by Parliament.
He has wondered what the unions representing the public service will be negotiating with Government when the budget would have already been completed.
The UPND Chairman Labour and Industrial Relations states that the position of his party is therefore that under its government there would have been no wage freeze to start with.
He has question the essence of freezing wages only to allegedly accommodate the wasted revenues spent on a bloated cabinet, expensive by-election after by-election, sending large delegations on international trips on an almost weekly basis and growing debt payments.
Mr. Chanda adds that the other issue that his party thinks the PF government will never address is improving tax revenue collection.
He says this is because the PF government is used to the easy way out of borrowing.
QFM NEWS