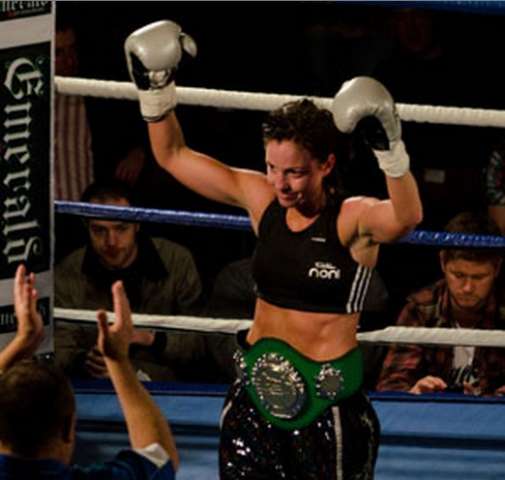 by Michael O'Neill
(APR 30) Ireland's only female professional boxer, Christina "Lightning" McMahon from Carrickmacross enters the ring in Lusaka, Zambia on Saturday 2nd May in her first attempt to annex the World Boxing Council (WBC) bantamweight interim gold title. The bout takes place at Lusaka's famous Mulungushi International Conference Centre.
There is of course another fight on Saturday too when a Mr.Pacquiao trades leather with a Mr.Mayweather in Las Vegas and for a far,far bigger purse with millions more watching it on TV too. Women can but dream of such days and such huge purses!
Commenting from the Zambian capital today, Christina had this to say to her followers:
"I just want to thank u all from the bottom of my heart for being a part of our journey to the goal..u all kept me going with ur messages of positivity and belief during a long week away so far from home. Anyone who knows me very well will know I don't and won't change who I am no matter the outcome.
With pure determination to not give up the fight against those who think u are too old or just mad for those underestimate the power of mind body and spirit.I will prove one thing 'never fear what might be' so with a little bit of 'Irish Luck 'and the preparation behind us and the opportunity that arose,I hereby give u all my mighty best to bring back the belt home to Ireland ". Chrissy "Lightning" Mc Mahon.
The Monaghan woman, who as an amateur won numerous IABA Intermediate and other national titles, fights unbeaten Zambian, Catherine Phiri but will not be short of support herself as among the attendance is expected to be Ireland's Ambassador Finbar O'Brien, his wife Maggie and a sizeable local "Wild Geese" community delegation willing Christina to bring back the title to Carrickmacross and Ireland.
A McMahon win on Saturday would mean that for the first time ever Ireland would hold two Senior Elite Women's world titles at the same time since Bray's Katie Taylor took her fifth-in-a-row AIBA World Elite lightweight (60kg) title in Jeju, Korea last November.
McMahon's opponent,who has won all 10 of her previous fights, won the WBC silver title in March last year after defeating Pia Mazelanik of Germany and also holds the African Boxing Union (ABU) crown.
Of course both Christina McMahon and Katie Taylor acknowledge that they both owe much to another Irish woman, Deirdre Gogarty the original trailblazer for women's boxing in Ireland. Indeed both have already said that Gogarty's record and especially her fight with Christy Martin served as an inspiration to them.
Remember that Gogarty never fought as an Amateur or a Professional in Ireland and it was not until October 2001 that the first sanctioned female bout took place at the National Stadium, between 15 years old Katie Taylor and Alanna Audley, then 16. Christina McMahon was also a very successful kick-boxer of no mean standing and was a late arrival to the boxing scene.
McMahon recalls: "I was 32 when I took up boxing, about eight years ago, and I never lost an amateur fight. I even fought two internationals under Pete Taylor.
I was training with Pete in Bray and fought a Swedish girl, Jenny Hardings with him in the February. I turned 35 that June and that Swedish girl won the European Championships in September, and I couldn't travel with the team!
On one's 35th birthday you had to stop. The pain of that – like your career just has to stop. But it just showed me the level I was at. I took a year out then turned pro.
People go on about age. It's not about age; it's about how your body has gone through the last few years. I don't drink or smoke, I look after my body and plus I only started kickboxing when I was 20.
I only started peaking in my 30s. I don't know how long I have left. Maybe a year, maybe two, but I'm peaking at the moment."
I'm looking forward to this bout and hope to bring back the title to Ireland." She went on: "Cathy looks like a good boxer, but I am not here for a holiday. She is in my way right now and I will not take this fight lightly," she said.
What of Phiri? Oriental Quarries Ops Director and noted Zambian coach, Christopher Malunga had this advice for his fellow countrywoman:
'Every boxer is always dangerous until the final bell and Catherine should be wary of that'. Besides, this is a big WBC title she will be fighting for, and looking at the reputation of the WBC, they never give you a weak opponent so this will be a tough fight. It kind of reminds me of (former champion) Natalie Forget of Canada," Malunga told 'The Times of Zambia'.
At today's pre-fight media conference, live on National TV, the Irish boxer's husband and coach Frick McMahon said: "My boxer is very ready and is very prepared. We are not thinking about losing because we came here for some serious business," he told viewers in 'boxing mad' Zambia.
Phiri's own thoughts on the bout and on her opponent? : "I have gone all over the net looking at her, her record and a few videos and I respect her because she has won all her fights and to me it not about the opponent, it's about what I do on the day", adding : "I don't have much to talk about as I will talk more in the ring. But trust me even today I can have this fight because I have been waiting for this fight for so long now," she concluded.
It promises to be a great bout with Christina flying the flag for Ireland and women's boxing across the Irish Sea whilst Catherine will want to ensure that she does her country proud once more. We will update you on the outcome over the weekend.
For the record the WBC appointed officials are: Referee: Ian John-Lewis , Judge: Predrag Aleksic , Judge: Eddie Pappoe , Judge: Patrick Mukondiwa
and interim WBC World female bantamweight title Supervisor: Celestino Mindra.
by Michael O'Neill / womenboxing.com
Photo Credit: Gerard Donnelly