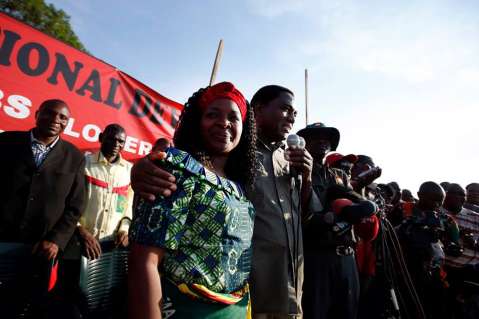 OFFICIAL STATEMENT
30th April 2015
May Day Message : Zambian Workers Deserve Better
For many years now, Zambian workers have faced numerous challenges from casualization right through to the infringement of their basic rights, such as being denied the right to representation and belong to a union. Too many workers are in jobs that cannot be classified as decent jobs. The primary cause of this is a lack of commitment from the Government, especially the PF Government, which has shown time and time again that they are not interested in the welfare of the worker and that they are not focused on improving the situation for the majority.
This lack of care by Government for Zambian workers has manifested in several ways, the first is the wage freeze amidst rising costs of living; the second is the use of intimidation as the case was with the nurses that were fired in 2012, the third is the fact that without consultation they revised the retirement age to 65 years, what life is left in a human being who retires at 65? Lastly there is an employment freeze in the public sector that has consigned many capable young men and woman to perpetual unemployment. Moreover, the failure by the PF Government to effectively manage the economy has led to limited opportunities not only for employment, but also for employment into decent jobs. As long as the PF presides over a struggling economy in which currency instability, power blackout and Government waste are common the situation will worsen.
The UPND believes in Zambian workers. Zambians have always been hardworking, determined and ambitious with a high resolve to address the challenges that face them. Our workers operate in difficult environments and conditions to keep this country moving forward. However, greed, gluttony and poor policy choices by the current Government have left many of our dedicated civil servants demoralised. Many of our hard working workers in the public service now look outside their day jobs to make the extra money to pay for housing, education and ever rising costs of food. This is grossly unfair and they deserve better.
There is very little to celebrate on Labour Day when people are paid low salaries amidst rising costs of living. Even this year's Labour Day theme: "Promoting National Economic Growth through Job Creation, Free Collective Bargaining and Respect for the Workers' Rights" is really a mockery as the opposite is what is actually happening. What the Zambian workers need is a salary that considers the rising costs of living, a clearly laid out retirement plan for them to enjoy the fruits of their labour when they retire and good working conditions that enable them to advance in their careers without heavy bureaucracy. Our workers expect government to devise consistent policies that minimizes the need to tax its people to fund poorly contracted loans. Our workers deserve career advancing training opportunities that will teach them modern skills to increase productivity and generate a sense of personal fulfilment.
As UPND, Labour Day will be the day to appreciation our workforce, paying our workers what they truly deserve and rewarding them for their service to this nation. To do this, our approach is as follows:
1. Lifting of the wage freeze and enhancing salaries for all public service workers to match the cost of living and leave enough for savings.
2. Lifting the employment freeze to reduce dependency on the few that are employed. This will lessen the burden of those already employed and create opportunities for the youths.
3. Reduce the retirement age to 55 years and ensure that all retirees get their retirement package on the last day of working. This will also facilitate career enhancement for many.
4. We will reduce unnecessary expenditures that will reduce the need to tax workers at current exorbitant rates.
5. We will create a professional civil service that will have access to Government initiated career enhancing acquisition of skills to increase productivity.
6. For our colleagues in the private sector, we shall have a labour friendly tax regime that will ensure that companies pay a LIVING wage, not to be confused with a MIMUMUM wage.
7. We shall not borrow for consumption; the current borrowing is fuelling high PAYE taxes as the Government struggles to pay back what we are borrowing because of poor investment choices.
Our hard working Zambians surely deserve better, and they need to be respected and rewarded on each day of their service to the nation. This is what the UPND believes in.
Hakainde Hichilema
UPND President
Together, We Can