The mayor of the city of Kitwe Mr. kelvin Sinyangwe
Minister of youth of sport, Hon Vincent Mwale
Cabinet ministers present
Provincial minister – Copperbelt province, Hon Musenge
Deputy ministers present• senior government
Party officials
Chairman – national sports council of Zambia and your board members
President for Africa golf confederation (AGC) ambassador Joe Malanji• president of Zambia golf union (zgu) and your executive members
Chief executive officer- Mopani copper mines plc. and president of Nkana golf club -Mr. Danny callow
Mopani 2015 Zambia open organizing committee chairman and members
Representative from Redpath• captain – Nkana golf club and your executive members
Dear participants• distinguished invited guests• members of the press
Ladies and gentlemen first and foremost, I would like to thank the Zambia golf union for inviting me to come and officially close the Mopani/ Redpath 2015 Zambia open golf tournament, which took place in this great city of Kitwe. I am informed that this is the second time Nkana golf club is hosting this prestigious event.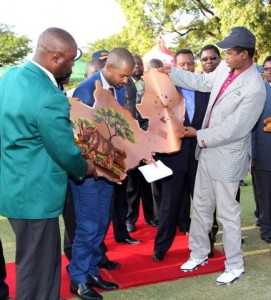 The first and inaugural tournament was hosted in 2014. Distinguished guests, ladies and gentlemen on behalf of government, the Zambian people and indeed on my own behalf, I wish to convey a special and warm welcome to all the distinguished guests especially our foreign guests and participants who are visiting our great country, for the very first time. You are most welcome to our beautiful country. I am confident that you have had an eventful and memorable stay in Zambia.
You will agree with me that the Zambian people are friendly and hospitable. Ladies and gentlemen, may I remind you that occasions such as this do not only provide entertainment but also affords us a platform to interact and share various ideas and experiences.
This is important because we are coming from different backgrounds and diverse cultures. It is therefore my sincere hope that our interactions have contributed to widening horizons of our social and economic fellowships.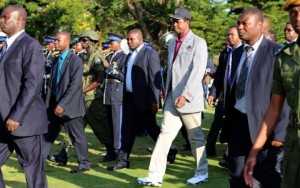 I also want to underscore the fact that sport is a unifying factor and it is therefore inevitable to embrace this unity of purpose in order to make the world a better and peaceful place for us to live in. Ladies and gentlemen, the government takes exceptional consideration in promoting sport as a way of life for its citizenry to improve their health and wellbeing.
Further, it is government policy to encourage not only golfer but all athletes to successfully participate in various competitions both within and beyond our borders. However this cannot be achieved unless we put in place sound development programs in golf. In this regard ladies and gentlemen, I want to take this opportunity to call upon Mopani copper mines plc. to consider sponsoring some development programs as way of promoting golf and grow the sport of golf in Zambia.
The sponsorship can be either of the following:
Establishing a sound junior golfers program;
Promoting peri-urban golfers tournament;
Establishment of an academy for the youth to engage in golf and;
Enhancing skills training among coaches in golf ladies and gentlemen, once the above areas are addressed I have no doubt that Zambia will have a pool of golfers that will start to not only represent Zambia but also be among the top golfer in region and the world at large.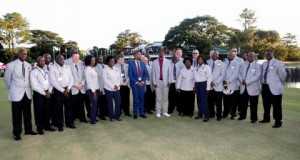 I look forward to a time when I would present the lucrative Zambia open prize to a Zambian. Distinguished guests, ladies and gentlemen, as much as I take the honour in presenting the prizes to various distinguished winners today, a time should come for our Zambian participants to rise to the occasion and claim a fair share of cake on this competitive platform. Distinguished guests, ladies and gentlemen, I want to congratulate Zambia golf union and the Nkana golf club for successfully hosting this prestigious event
. Special commendation goes to the chairman of the organising committee and your members for the job well done. It is only fair to acknowledge that it takes a lot of sacrifice, in various forms, to successfully organise an event such as this one. May I also thank the title sponsors-Mopani copper mines plc. and Redpath together with other sponsors for their tremendous efforts to make this event come to fruition.
You deserve a big applause.as I conclude, I would like to congratulate all the participants who have emerged victorious. For those that did not win anything, please do not despair, your participation provided a formidable force that made it possible for the competition to happen we thank you and commend you. Ladies and gentlemen, I would like to thank and commend participants from other countries for coming to Zambia to participate to in this tournament.
I hope you enjoyed some our tourist attractions and made friends.
I also wish you god's mercies as you travel back to your respective destinations ladies and gentlemen; I now take the honour to declare the Mopani/ Redpath 2015 Zambia open golf tournament officially closed. Thank you and may god bless you all.

Source :
State House Press Office – Zambia