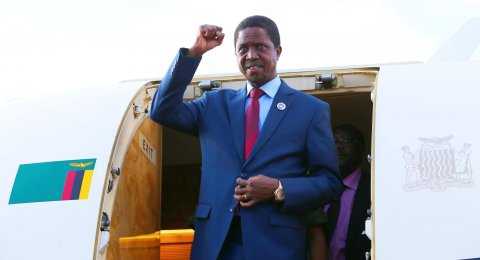 President Edgar Lungu has urged Patriotic Front (PF) members to be open and welcome members from other political parties.
Speaking at Zambezi Sun in Livingstone today when he addressed party officials, President Lungu noted that it was important to embrace everyone in the party.
He warned that the party would not take kindly to any member who will bully other members in the party.
He further urged members to be disciplined and united.
''All of us are PF. Those with divided loyalty once pinned down will be dealt with. We in the PF should not fight. Let us show the people of Zambia why we are a party of choice,'' he said.
President Lungu also assured party members that a vehicle has been sourced for party mobilization in the province adding that it should be used by both the district and provincial party members.
And President Lungu has assured the people of Southern Province that the people would not experience any hunger as government through the Disaster Management and Mitigation Unit had already done an assessment of areas that would require relief food.
And speaking shortly before departure at Harry Mwaanga Nkumbula International Airport, President Lungu said it was important to love one another and to be patriotic as there was only one Zambia.
''Please continue loving one another, be patriotic, Zambia is one and we all belong to this Zambia. Speak out, don't be intimidated. If you don't speak out, I won't know your challenges,'' he said.
Speaking earlier, PF Provincial Chairman Charles Hamududu appealed to party members to give the President correct information on what was pertaining on the ground.
And PF Media and Publicity Secretary Brian Hapunda has noted that the President will in the next one month kick start his tour of the provinces starting with Southern Province.
He noted that the President would kick start his tour with Southern Province because he valued the people of Southern Province.
The President was in Livingstone to officially close the Gala dinner of the Law Association of Zambia's 2015 Annual General meeting.