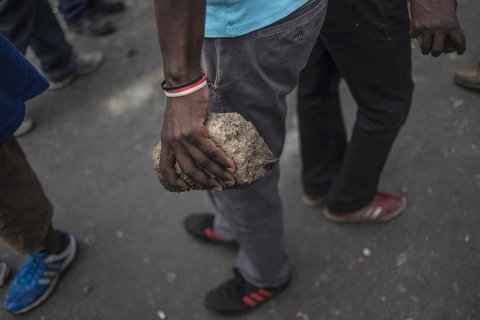 South Africa is facing a backlash from the rest of the continent over the targeting of immigrants in a wave of xenophobic violence.
South African vehicles were pelted with stones in Mozambique on Friday and South African companies are reportedly being threatened with closure in Nigeria. Protests have been held at various South African embassies across the continent, and several South African musicians have been forced to cancel concerts abroad.
The tit-for-tat measures follow a surge of attacks on foreigners in Durban, Johannesburg and other parts of South Africa, in which at least six people have been killed, more than 5,000 displaced, and shops looted and razed. Most of those affected "are refugees and asylum seekers who were forced to leave their countries due to war and persecution", the UN high commissioner for refugees said.
President Jacob Zuma on Saturday cancelled a state visit to Indonesia to deal with the crisis and visit one of the camps in the Durban suburb of Chatsworth, where more than a thousand foreign nationals are sleeping in tents and relying on volunteers for food. Many were boarding buses to return to Malawi, Zimbabwe, and other home countries.
Zuma told a crowd that those who wanted to go home would be helped but his message to those remaining was: "We are firstly going to stop violence and then allow them to stay here in peace.
"It is not every South African who says go away, not at all. It is a very small number who say so. We don't want the countries in the region where the citizens are going to look at each other in a hostile manner. We want to live as sisters and brothers."
The rest of Africa is increasingly questioning this assertion, however. There are some who already regard South Africa, which has a unique history and the continent's most developed economy, with envy or suspicion.
The xenophobic mayhem has sharpened a sense of "us and them", causing bitterness among nations that hosted thousands of South African exiles during the struggle against apartheid.
In Mozambique last week, a group of about 200 protesters blockaded the southern Lebombo border and stoned South African vehicles. Moamba district police commander Alfonso Rocco told the Agence France-Presse news agency: "Demonstrators blocked the road for half an hour, refusing to allow cars with South African registration plates to pass."
Sasol, an energy and chemical giant, evacuated 340 South Africans from Mozambique over fears for their safety. In Zambia, a privately owned radio station has stopped playing South African music in protest.
Businesses from South Africa could face closure in Nigeria unless it takes swift action to stop the violence, according to the eNews Channel Africa. An official with Nigeria's newly elected All Progressives Congress party handed a memorandum to the South African embassy threatening to shut down leading companies, it said.
In the Zimbabwean capital Harare, there were clashes with police as more than a hundred people marched outside the South African embassy with a petition that said: "We, the people of Zimbabwe standing in solidarity with our brethren in Africa, strongly condemn and denounce the cruel, senseless and gruesome xenophobic slaughter of foreign nationals and the looting of their properties in South Africa." Gilbert Mutubuki, president of the Zimbabwe National Students' Union, was quoted as saying: "Right now we have South African businesses such as Pick n Pay operating freely here, but our brothers are being butchered in South Africa … It's high time we should do the same to all South African businesses here until they stop all this nonsense."
Credit – TheGuardian.com