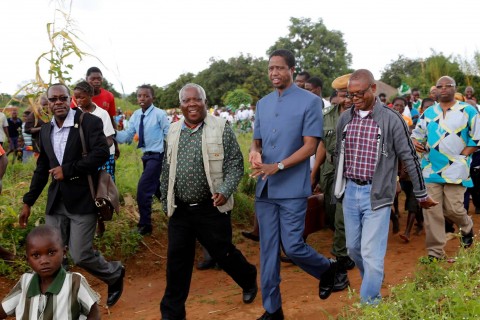 It's a hatrick for PF!!!
PF scoops all the three seats
Victory is certain in Masaiti and Senga Hill Constituencies as the Patriotic Front is still leading.
Final PVT results have put PF ahead of UPND. Votes counted in all the polling stations of Chawama show that PF has polled 7,160 followed by UPND with 3,029.
In Senga Hill, PF has polled 4, 003 out of the 32 Polling stations counted so far. UPND is trailing with 1967.
In Masaiti, PF has so far polled 4,864 while UPND trails with 1,852 out of the 43 Polling Stations counted. Like Senga Hill, Masaiti has 47 Polling stations.
Earlier, PF opened up with leads in all 3 SEATS
Patriotic Front Candidates in Chawama, Masaiti and SengaHill constituencies had opened up early leads.
Several Polling stations counted so far have shown an early lead for PF Candidates followed by United Party for National Development (UPND) candidates.
Chawama had 47 Polling stations, Masaiti had 47 Polling stations and SengaHill had 49 Polling stations.
In Chawama, PF is featuring Lawrence Sichalwe while UPND is featuring Charles Kasalwe.
In Masaiti the PF is featuring former MP Michael Katambo while the UPND is featuring former Energy Permanent Secretary, Peter Mumba.
In SengaHill PF is featuring Kapembwa Simbao and while the UPND is featuring Giles Yambamba.
Full results are expected to be fully known by midnight after counting and tallying has been done.
Source – Patriotic Front – PF
www.lusakatimes.com lusaka times lusakatimes www.lusakatimes.com latest news