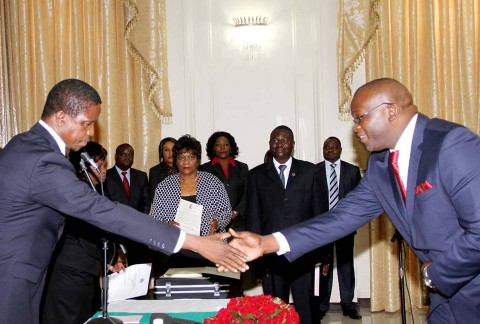 President Edgar Lungu is set to appoint more youths and women to high government positions.
The President said although he was aware that old people have not welcomed his decision to appoint young people to high government positions, he was confident that the youth, in whom the country's future lays, were capable of delivering.
Mr. Lungu was speaking at State House today when he swore in Likando Kalaluka as Attorney General and Chalwe Lombe as Ministry of Foreign Affairs Permanent Secretary.
President Lungu said young people were entitled to serve to high government positions as long as they merit the appointment.
He said he does not regret appointing Mr. Kalaluka as both Attorney General and State Counsel whom critics said was young and inexperienced for the position.
He said instead of criticising his appointment of young people, the older and more experienced people should help the youth to settle well in their positions so that they can discharge their functions effectively for the benefit of the country.
"I must say I have no apologies to make for appointing these two young men to high offices because they deserve it. There is nothing wrong in being young and a Zambian. I think what we need to do those of us who think we are wiser and older, is to assist young Zambians settle down and do their best," he said.
President Lungu also disclosed that he will not restrict himself to the civil service in selecting people to work with because Zambia is bigger that the civil service.
He said he will appoint people to positions based on merit adding that not even political party affiliation will stand in his way.
"There are people who belong to other political parties or have political party loyalties but during my selection of people to work with, I will not restrict myself to those considerations,' he said.
The President said women must equally be given opportunities to ascend to high government positions as the country seeks to develop.
He has since urged Vice President Inonge Wina to help him identify women for appointment.
"The same goes for women, I am still looking for women for appointment, so madam Vice President, help me find women for appointment," he said.
And President Lungu has said government was working on a policy that will enable Zambians in the diaspora participate in difficult spheres of the country's governance.
Meanwhile, President Lungu has appointed former Foreign Affairs Permanent Secretary George Zulu as ambassador designate to Australia.
Special Assistant to the President for Press and Public Relations, Amos Chanda, who disclosed this at State House today, said the President has sent Mr. Zulu to Australia so that he can help set up a new mission in that country.