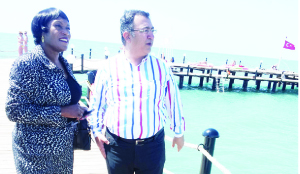 ZAMBIA received about 950,000 international tourists in 2014 representing an increase of 3.4 per cent.
Meanwhile, Government has said it is optimistic that the 1,000,000 international tourist arrivals target for this year will be achieved.
Ministry of Tourism and Arts, Permanent Secretary Stephen Mwansa said in a statement yesterday that Zambia received a total number of 946,969 in 2014 compared to 914,576 in 2013.
From the total number of visitors in 2014, 23 per cent came from Europe, America and Asia while 77 per cent were from within Africa.
"Further, the total number of visitors to national parks increased by six per cent from 77,282 in 2013 to 81, 962 in 2014," Mr Mwansa said.
Mr Mwansa said that out of the 81,962 visitors to the national parks, 57,059 were international visitors while 24,903 were domestic.
South Luangwa national park contributed 52 per cent, Mosi-ao-Tunya national park 26 per cent, Kafue national park 12 per cent and Lower Zambezi national park 11 per cent.
Mr Mwansa said that the ministry was hopeful that the 1,000,000 international tourist arrivals target would be reached in 2015.
He attributed the increase in the number of tourists to the introduction of the Kavango Zambezi Trans-frontier UNIVISA (KASA UNIVISA) between Zambia and Zimbabwe.
The UNIVISA eliminates the need for tourists visiting the two countries to have multiple visas therefore making cross-border travel easier and less costly.
Mr Mwansa identified the other factors for the increase in the inflow of tourists to the lifting of the yellow fever requirement and the expansion of the budget airline domestic routes in the country which
has improved connectivity.
Mr Mwansa said the declaration of Zambia as a yellow fever-free zone by the World Health organisation (WHO) was momentous for travelers to and from Zambia.