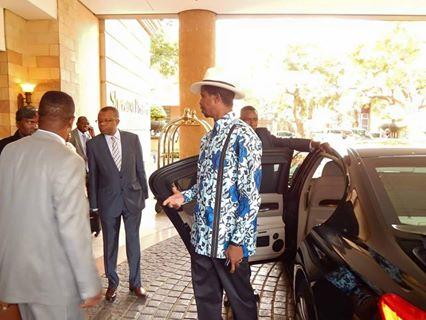 President Edgar Lungu has resumed official duties after his return from South Africa where he had gone for specialist medical treatment.
President Lungu, who looked very jovial, chaired a cabinet meeting at Statehouse this Monday morning.
The President opened the cabinet meeting at 10:09 hours.
Sixteen cabinet Ministers were in attendance.
By press time, the meeting was still in session.
Meanwhile, the Zambia Medical Association says it is unethical for any medical personnel that did not treat President Edgar Lungu to comment on the President's health.
Association President Arron Mujajati says ethically, only doctors treating a patient, in the case of President Lungu's doctors have the right to publicly comment on his illness.
Dr. Mujajati says this is because there are the only people that have examined him and have been given written consent to disclose the findings.
He says in a statement issued to ZNBC News that all medical doctors know for a fact that they're NOT permitted to comment publicly about a patient that is not under their care.
Dr. Mujajati says under the Zambian law, a patient who feels that his or her right to confidentiality has been violated, has the right to file a complaint with the Health Professions Council of Zambia.
He has reminded doctors whether in practice or as politicians that medical ethics still bind them.
Meanwhile Dr. Mujajati has praised President Lungu for facilitating a meeting between his association and members of the South African surgeon general, an office that looks into the health of the President, constitution office holders and foreign heads of states that seek medical treatment in that country.
He says this is an indication that President Lungu is taking seriously the call to institutionalize the health care of Zambian leaders.
Dr. Mujajati says his association will in the next few weeks be calling on the Ministry of Justice to submit the organisation's proposed structure for the office of the Physician General.