By MUNAMBEZA MUWANEI
THE Road Transport and Safety Agency (RTSA) has requested Toyota Zambia to conduct research on the Toyota Noah following numerous  reports of accidents involving the vehicles.
RTSA chief executive officer Zindaba Soko said his organisation decided to ask Toyota to do a research on the Noah because it was part of the Toyota family.
Mr Soko said RTSA made the request for the research to be conducted last year and they were expected to get the report this year.
Asked on the possibility of banning the Noah, Mr Soko said that would only depend on the report from Toyota.
"We asked Toyota to conduct a research on these vehicles because we had a high number of accidents involving the Noah," Mr Soko said.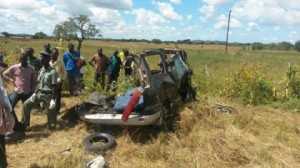 He warned bus operators that his organisation would be strict because they had an obligation to protect the lives of the travelers as a high number of accidents in the country was caused by human error.
"At least 90 per cent of those accidents are all as a result of human error," Mr Soko said. "Some drivers … speed on a bad road, this behaviour is really bad."
The recommended sitting capacity for a Noah is seven passengers but some drivers overload them by carrying as many as 12 passengers, which is careless on the part of the drivers.
RTSA recently summoned 15 bus operators, namely, Mazhandu Family Bus Services, CR Holdings, Power Tools, Jitotwe, Lombeson, Lameck Ngona and CEA Fire Comfort Liners.
Other were Benard Moyo, Victor Mbao, Grand Enterprises, Capital Buses (Flash Buses), Javice Mutale, Simon Kalunga, Euro Africa Bus Services and RK Motorways.