ATLANTA (AP) — The ministry of a prominent Georgia megachurch pastor and evangelist who teaches that God wants to bless the faithful with earthly riches is seeking donations to buy a luxury jet valued at more than $65 million.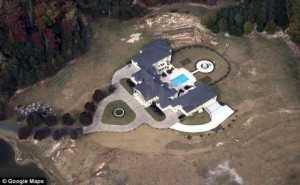 The website of Creflo Dollar Ministries asked people Friday to "Sow your love gift of any amount" to help the ministry buy a GulfstreamG650 airplane. Dollar and his wife, Taffi, are co-pastors of World Changers International Church in College Park, just south of Atlanta.
Dollar is one of the most prominent African-American preachers based around Atlanta who have built successful ministries on the prosperity gospel. Ministers in this tradition often hold up their own wealth as evidence that the teaching works.
The ministry's current plane, acquired in 1999, was built in 1984, has traveled more than 4 million miles and is no longer safe, spokesman Juda Engelmayer said. On a recent trip overseas, one of the engines failed, but the pilot was able to land safely and no one was injured, the ministry's website says.
"(W)e are asking members, partners, and supporters of this ministry to assist us in acquiring a Gulfstream G650 airplane so that Pastors Creflo and Taffi and World Changers Church International can continue to blanket the globe with the Gospel of grace," the ministry's website says.
Gulfstream's website lists an asking price of $67,950,000 for a G650 with a flight record of 1,616 hours and 625 landings since it entered service in mid-December.
Members of the ministry travel for much of the year bringing their message, food and supplies to people around the world, Engelmayer said. They need a plane that's fuel efficient, faster, with enough cargo capacity and enough seats, he said.
The G650 "flies at more than 92 percent of the speed of sound," typically holds about 18 seated passengers and can take off with a maximum weight of 99,600, according to Gulfstream's website.
Numerous online reports quoted the ministry website as saying: "We are believing for 200,000 people to give contributions of 300 US dollars or more to turn this dream into a reality."
On Friday afternoon, that line was gone, and the website instead said: "Your love gift of any amount will be greatly appreciated."
When asked about the change, Engelmayer replied in an email: "The ministry operates on the goodness of its followers and has always been a donor based organization. Every gift given is heartfelt and appreciated, and people who wish will give at the level comfortable to their situation and ability."
Soon after that, the website's entire page about the plane appeared disabled.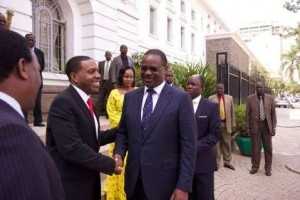 Dollar, who has five children, is a native of College Park and says he received a vision for the church in 1986. He held the first service in front of eight people in an elementary school cafeteria. His ministry grew quickly and the church moved into its current 8,500-seat sanctuary, on Dec. 24, 1995.
Dollar said in a 2007 interview with The Associated Press that he renounced his church salary, and his income comes only from personal investments, including a real estate business and horse breeding company called Dollar Ranch. He's also published more than 30 books, focusing mostly on family and life issues, including debt management.
He said he can get up to $100,000 for a single appearance on his packed schedule of speaking engagements.
Bishop David Oyedepo
A Nigerian preacher who is considered as one of the richest preachers in the world, David Oyedepo has a reported net worth of $150 million. He is the presiding Bishop and founder of Faith Church World Wide, also known as Winners' Chapel, having its headquarters in Ogun State in Nigeria.
A report says that Oyedepo owns a mansion in London and the U.S., along with four private jets. He owns a Dominion publishing house which publishes all his books, which are mostly on the subject of prosperity.
More than half (i.e. 168,8333,776) the population of Nigeria— Oyedepo's home country— live below the poverty line on under $2 a day.
Eddie Long
Eddie Long is a senior pastor of New Birth Baptist Missionary Church in Georgia. According to the Atlanta Journal-Constitution, published in 2005, Long received more than $3.07 million of compensation and benefits from his non-profit charity, Bishop Eddie Long Ministries Inc.
The newspaper investigation concluded that Long's assets included a real estate property of $1.4 million, a $350,000 Bentley car and a salary of more than $1 million, including $494,000 in 2000.
The average annual income of residents of the church's hometown, Lithonia, Ga., is $25,154.
Christian Oyakhilome
This Nigerian minister is the founding president of Believers' Love World Incorporated, headquartered in Lagos, Nigeria. Oyakhilome's assets are worth about $50 million. His church in Lagos has more than 40,000 members, most of whom are successful business executives and politicians.
The main source of income to Oyakhilome is through his business, which comprises of newspapers, magazines, a television station, satellite TV, hotels and real-estate.
Bishop T.D. Jakes
Thomas Dexter Jakes, Sr. is the bishop of The Potter's House, a non-denominational mega-church with about 30,000 members. The Texan pastor's net worth is $18 million.
He has earned his wealth being the chief pastor of The Potter's House. The Trinity Broadcasting Network and BET both air his services and evangelistic sermons. He has been called America's Best Preacher by Time magazine and has been featured on its cover. He lives in a $1.7 million mansion in suburban Dallas.
The average median annual income of the community he serves is $56,954.
T.B. Joshua
Temitope Balogun Joshua is the founder of the Synangogue Church of all Nations (SCOAN). He is one of the richest Black preachers of the world with a net worth of $15 million.
SCOAN has over 15,000 members. It has its branches in Ghana, UK, South Africa and Greece. SCOAN runs on a Christian television station called Emmanuel TV.
Charles Blake
Bishop Charles Edward Blake, Sr. serves as the presiding bishop of Church of God in Christ (COGIC), a 6 million member denomination. He earns a salary of $900,000 and lives in a 10,000 square-foot mansion in Beverly Hills. His church boasts 20,000 members per week.
The median annual salary income in South Los Angeles is $27,907.
Matthew Ashimolowo
Matthew Ashimolowo is the senior pastor of Kingsway International Christian Centre in London. His net worth is around $10 million.
Ashimolowo earned his wealth from various businesses like Matthew Ashimolowo Media, which sells documentaries and Christian literature.
Ashimolowo's home country is Nigeria where 55% of the population lives below the poverty level of under $2 a day.
http://financialjuneteenth.com/the-pastors-swim-in-millions-while-their-congregations-are-incredibly-poor/