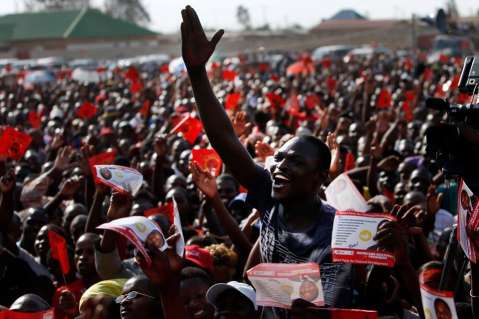 One Zambia, One Nation! Really ZNBC, Really?
Its laughable when a head of state utters words to the effect that "I will not tolerate nepotism and tribalism in this country." And as if to add salt to injury the so called national broadcaster starts running a motto like One Zambia One Nation. This is a head of state that has done nothing to show that he is an all embracing President. Here is a head of state who is more divisive flanked by a national broadcasting station that has lost relevance in the modern world. Clearly ZNBC has lost relevance and could only be relevant as a parody station. Let Loyiso Gola be the Director General at ZNBC with Chester Missing as the Director of Programmes. Because clearly that institution has become comedy central.
ZNBC does not know anymore what is news and what is common knowledge and yet they wonder how they are still lowly rated even when there is no competition. ZNBC cannot come close to any of the state owned broadcasting houses in the region. ZNBC has failed to attract top quality producers and story tellers because they pay peanuts. Their content can never be compared to anything but school plays that were done by the National Theater Arts Association of Zambia (NATAAZ). Even things like Play Circle are no longer able to shown on ZNBC because this public broadcaster is serving individual interests.
The idea of making ZNBC a corporation was to make it truly public, but from the look of things and practices, ZNBC is worse that TVZ. TVZ had better programmes and people because people were hired on merit. What has happened especially since 2011. We have seen people being appointed into positions they clearly have no competency. We have witnessed untold nepotism, tribalism and all sorts of isms in ZNBC. And we hope that by a stroke of luck ZNBC will occupy a certain position in the region. Just yesterday, some newsworthy items took place and ZNBC with their cameras were busy running after some politician or another. Tragic events happen in our society, but ZNBC chooses to follow people like Chishimba Kambwili who every time they open their mouths, you cringe fearing for himself and the consequences on the nation of what he is going to say. ZNBC needs to reform and reform now! The levels of nepotism and tribalism and lack of professionalism in ZNBC do not inspire confidence and thus do not even reflect their news motto "One Zambia, One Nation." You cannot claim to be one Zambia one nation when news coverage is lopsided. Which one Zambia are you talking about? ZNBC can close today, rest assured no one will miss it. If you think this is a bluff, let Chishimba Kambwili award the private broadcasting stations, nation wide licences, we can guarantee you ZNBC will be number 10 even when we have 3 broadcasting houses.
One Zambia, One Nation? REALLY?