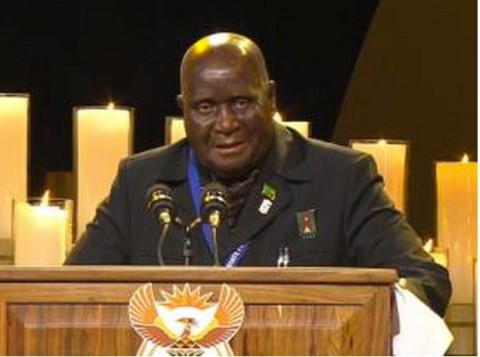 FORMER President Kenneth Kaunda says he believes President Lungu will perform to people's expectations.
Speaking shortly before departure for Mfuwe at the invitation of President Lungu yesterday, Dr Kaunda said Mfuwe is of political significance to the nation.
"President Lungu has constantly been in touch with me even when he was busy doing his work [campaigns] and when I was admitted to hospital, he visited me twice. I am sure the man will deliver," Dr Kaunda said.
He said while in Mfuwe, President Lungu will have time to think through issues and put in place a team that will assist him to execute his duties to people's expectations.
"President Lungu has gone through a tough time. He needs this retreat and work without being disturbed. He is a wonderful young man," Dr Kaunda said.
He recalled how he made landmark decisions while on retreat in Mfuwe during his time as head of State.

"Edgar Lungu is a hard-working young man who has made me happy and I thank God for that," Dr Kaunda said.
He expressed gratitude to President Lungu for inviting him to Mfuwe.
"Remember I am 90 and so I deserve to relax a bit and Mfuwe is just the right place for me," Dr Kaunda said.
He is accompanied by his chief of staff Cheswa Silwizya, who is also his daughter.
And Mrs Silwizya recalled how she and her siblings only saw their father during meal times in Mfuwe.
"Mfuwe is really hard work. There is much to do there. I remember as children we only got to see you dad at meal times because you were ever busy making landmark decisions," Mrs Silwizya said
Dr Kaunda is also expected to visit his eldest son, Panji.
He was seen off at City Airport by Ministry of Foreign Affairs permanent secretary George Zulu around 09:00 hours. 
Zambia Daily Mail