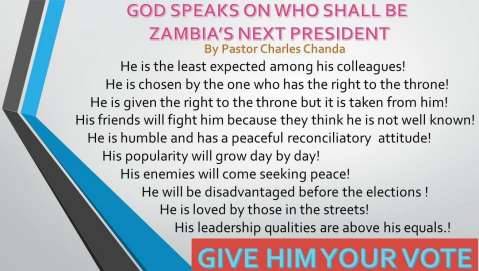 By Pastor Charles Chanda

There has been an influx on the social media of prophecies majorly coming from outside and all of them dealing with the internal affairs of the beloved nation. Some made prophecies with regard to the just ended presidential elections which were not correct and with some that where correct. One wonders why there is such a huge follow up now.
Many of us may not understand that as much as this was good having the mind of God, most of these prophets from outside are actually on a marketing path. You and I know that Zambia and most Southern African countries are a financial heaven for most of these prophets and participating in the affairs of these nations is one a way of sustaining their market. Please understand that I am not judging or condemning any particular one of them but I must speak the mind of God being a son of the soil.
Those who made wrong prophecies are trying everything possible to heap the blame on the system which is causing more problems for us. If your prophecy was not correct, take it that you did not hear properly from God. Be humble enough and acknowledge that you made a mistake. You will not be the first prophet to make a mistake. Samuel was sent by God to anoint a king from the house of Jesse and he blundered several times till God had to correct him. John the Baptist, that might servant of God was the one who baptized Jesus but when he was in prison he sent his disciples to ask from Christ whether he was the promised messiah. Men of God are not angels that cannot make mistakes. I appeal to all those prophets whose concern is to make their followers not lose confidence in their prophetic ability to refrain from sowing seeds of confusion.

People must understand that prophecy can be challenged by the prayer of the righteous. Consider the following example from the scripture where someone was told that he was going to die and he challenged that. In this country any negative prophecy no matter its source we reject it in Jesus Name.
2 Kings 20:1-6
In those days was Hezekiah sick unto death. And the prophet Isaiah the son of Amoz came to him, and said unto him, Thus saith the LORD, Set thine house in order; for thou shalt die, and not live. 2 Then he turned his face to the wall, and prayed unto the LORD, saying, 3 I beseech thee, O LORD, remember now how I have walked before thee in truth and with a perfect heart, and have done that which is good in thy sight. And Hezekiah wept sore. 4 And it came to pass, afore Isaiah was gone out into the middle court, that the word of the LORD came to him, saying, 5 Turn again, and tell Hezekiah the captain of my people, Thus saith the LORD, the God of David thy father, I have heard thy prayer, I have seen thy tears: behold, I will heal thee: on the third day thou shalt go up unto the house of the LORD. 6 And I will add unto thy days fifteen years; and I will deliver thee and this city out of the hand of the king of Assyria; and I will defend this city for mine own sake, and for my servant David's sake.

Hezekiah challenged that prophecy and God heard him. As a praying nation we are going to challenge any prophecy that will not do us any good in Jesus Name. All those prophecies concerning threats to death we demolish them in Jesus Name. God cannot give food and then put poison in it. He has given us a leader and He will protect him from all the wishes and plans of the wicked ones.

I was among those who was given a prophecy by the Lord concerning who was to become president of the republic of Zambia and by the grace of God all that God told me has come to pass. There is no doubt that our nation is in the hands of God. Goodness and mercy will follow this country in Jesus Name.
 By Pastor Charles Chanda