Inonge Wina has become Zambia's first woman Vice President in Zambia's history.
Ms Wina takes over from Dr Guy Scott who oversaw the country's transition period following the death of President Michael Sata in October last year.
Republican President Edgar Lungu has since sworn-in Ms Wina during a ceremony held at State house this morning were he also made a number of other appointments.
Others members of the Cabinet appointed and sworn-in are Davis Mwila who becomes Home Affairs Minister,Ngosa Simbyakula as Justice Minister and Harry Kalaba who has bounced back as Foreign Affairs Minister.
Others who have bounced back are Alexander Chikwanda as Finance Minister, JEAN Kapata as Tourism Minister and Dr Joseph Kasonde as Health Minister.
Mr Lungu adds that he will soon unveil his full Cabinet.
President Lungu has also appointed UPND Solwezi Central Member of Parliament Dawson Kafwaya as North Western province Minister and Mongu central Members of Parliament Nathaniel Mubukwanu as southern province Minister taking over from Mr Daniel Munkombwe who has been relieved of his duties.
Others sworn in are Amos Chanda as Special Assistant to the President for Press and Public Relations, Kaizer Zulu as Special Assistant to the president for political affairs, Emmanuel Chilubanama as Permanent Secretary State House.
And President Lungu has cautioned the newly appointed State House staff against insulating and isolating him by denying people access to him.
Mr Lungu reminded the newly appointed State House staff that their job is not to insulate the president but to make the President efficient and transparent.
He warned that he will not hesitate to remove anyone found wanting from office.
And President Lungu says his decision to run for the presidency in 2016 will be dependent on party members.
He says if party colleagues feel that he should continue depending on the work that he will do during his presidency he will go ahead and run for the presidency in 2016.
On the Constitution, President Lungu says he will not attach a timeframe for the enactment of the new people driven constitution.
Mr Lungu says government should not be held at gunpoint to deliver a people constitution.
He states that he will not dedicate himself primarily to the constitution making process during his presidency.
President Lungu says the constitution making process cannot be priority number one in one year six months considering that it will gobble a lot of money.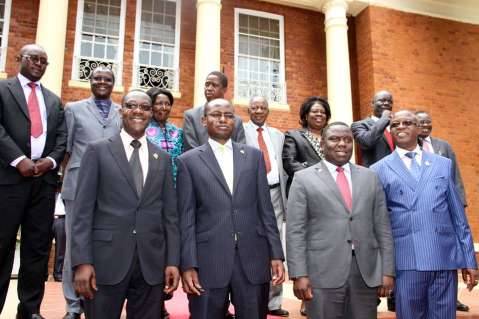 qfm news