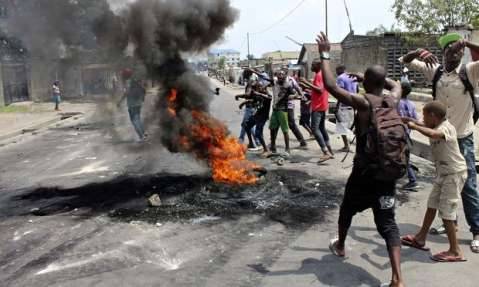 KINSHASA – Violence erupted in the Democratic Republic of Congo for a third day Wednesday over controversial legislation that would extend President Joseph Kabila's term in office, as international alarm mounted over the crisis.
The mainly Christian country's Catholic archbishop Laurent Monsengwo also weighed into the turmoil, calling on the Congolese authorities to "stop killing your people" after anti-Kabila protests turned deadly this week.
In the capital, gunshots rang out on Wednesday as dozens of students shouting "Kabila get out!" faced off against a small group of police officers at Kinshasa university, an AFP journalist said.
Police were out in force to try to block the demonstrations, with sporadic confrontations around the university.
In another neighbourhood, youths destroyed a police vehicle and police fired tear gas in an attempt to disperse the protesters.
Sowing despair
"Certain political figures, along with law enforcement agencies, are sowing despair and creating insecurity," Monswengo said in a statement.
"We denounce these actions which have caused death and we are launching this plea: Stop killing your people."
He called on the people of the troubled central African country to use "all legal and peaceful" means to oppose the bid to change the election law.
Protesters are rising up against legislation that would enable Kabila, who has been in power for 14 years, to extend his term beyond 2016 when his second mandate ends.
Twenty-eight people have been killed since Monday, according to a local human rights organisation, while the authorities put the latest death toll at five.
The European Union called Wednesday for restraint and said the country's election timetable should abide by the constitution.
"All sides should seek a consensus allowing a return to calm," it said in a statement. "Respect of the electoral calendar as fixed by the constitution is central to the debate."
Many African presidents have tried, and often succeeded, to stay in power by rewriting their countries' constitutions to get rid of limits on presidential terms.
Last year, Burkina Faso's president Blaise Compaore was chased from power when he tried to change the constitution to extend his mandate.
In Kinshasa on Tuesday, hundreds of youths torched a town hall, while several inmates escaped from a prison and looters made off with police weapons.
At least 20 people were arrested as protesters pelted state buildings, public buses and even passing cars with rocks.
Opposition parties have called for mass demonstrations against the new electoral bill which is now being debated in the Senate after being approved by the lower house.
Speaking from Belgium on Tuesday, DR Congo opposition leader Etienne Tshisekedi called on the Congolese people to force a "dying regime" from power.
Tshisekedi, 82, who in Europe recovering from illness, has been in opposition since the 1960s, previously taking on the dictator Mobutu Sese Seko as well as Kabila's father Laurent Kabila.
Warning of 'total impasse
"The sham regime in Kinshasa is constantly committing irresponsible acts of provocation, plunging the nation into a total impasse that could lead to widespread chaos," he said.
He called on Congolese soldiers and police to "protect citizens and not to obey perverse orders aimed at killing defenceless men and women."
The unrest is the latest upheaval to rock the mineral rich country which has been plagued by multiple wars and weakened by decades of misrule.
Kabila, now 43, is the son of former president Laurent Kabila who as a rebel leader in 1997 toppled Mobutu.
The younger Kabila came to power in January 2001 when politicians rushed to make the young soldier head of state after the assassination of his father.
He was returned to office in 2006 in DR Congo's first free election since independence from Belgium in 1960. He began his second and last five-year constitutional term after a hotly disputed vote in 2011.
His opponents believe that Kabila wants to prolong his mandate by making the presidential and parliamentary elections contingent on a new electoral roll, after a census across the vast country set to begin this year.
The government has acknowledged that the census could delay elections due at the end of 2016, but regional analysts and diplomats estimate the process could take up to three years.
AFP