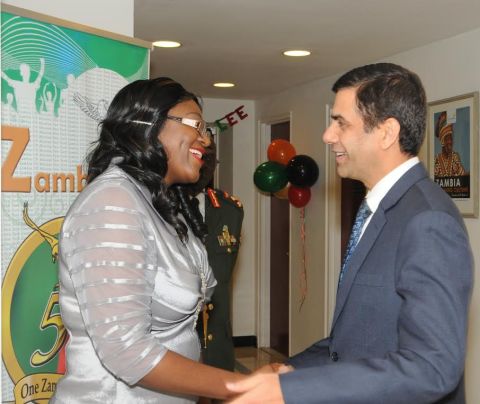 NEW YORK, Tuesday, January 13, 2015 – Zambia's Permanent Representative to the United Nations, Her Excellency Dr Mwaba Kasese-Bota, has been elected Vice-President of the UNICEF Executive Board.
Dr Kasese-Bota was elected to represent the African Group on the Executive Board for the 2015 period.
Commenting on her election, Ambassador Kasese-Bota thanked the African Group for nominating her, and for their confidence in Zambia's leadership to promote the wellbeing of children on the UNICEF Executive Board.
Other Vice-Presidents are Permanent Representative of Panama Ambassador Laura Elena Flores Herrera, Deputy Permanent Representative of Germany Ambassador Heiko Thoms and Estonia's Kristel Louk.
Pakistan's Permanent Representative to the UN Ambassador Masood Khan was elected President.
In his acceptance speech, Ambassador Khan assured UNICEF that the new Executive Board will work hard to uplift the wellbeing of children and fought for their rights.
UNICEF Executive Director Anthony Lake congratulated the new Executive Board, and looked forward to the board's guidance.
Mr Lake expressed optimism that the issues affecting the wellbeing of children will be included in the Post-2015 Development Agenda, which is currently being formulated.
Issued by:
CHIBAULA D. SILWAMBA (Mr.)
First Secretary for Press and Public Relations
Permanent Mission of the Republic of Zambia to the United Nations
Follow us on Facebook: Permanent Mission of the Republic of Zambia to the United Nations