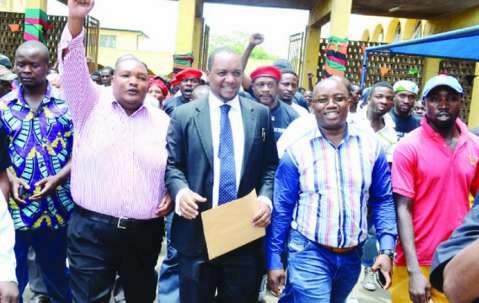 MATERO Member of Parliament (MP) Miles Sampa says he will form his own political party and contest next month's presidential election if he loses his case in the Supreme Court.
Mr Sampa has also claimed that there are some people plotting to assassinate him following his decision to seek PF candidacy in the January 20, 2015 presidential election.
The Matero MP is challenging the election of Edgar Lungu as Patriotic Front (PF) president and candidate in next year's poll.
This follows the nullification by the High Court of Mr Sampa's election as party leader after two PF general conferences last week in Kabwe.
Mr Sampa said during a special interview with Radio Phoenix yesterday that he had received several calls urging him to form his own political party because people would not vote if he did not contest the election.
"I have many options, of course the first one is to stand on a PF ticket if I win the case, but there is plan B which will see me forming my own party just like what the big man (late president Michael Sata) did," Mr Sampa said.
Mr Sampa, who is also Commerce Deputy Minister, said he further had an option of backing the United Party for National Development (UPND) in the January election.
"This is plan C, why not back them? After all they are my cousins.
Even after this interview, I will be talking with them, but there are also other oppositional parties that I am talking with," he added.
Mr Sampa was among the close relatives of Mr Sata who had sought to succeed him after his death in October.
He, however, said that contesting against the other relatives, including former first lady Christine Kaseba, had not dented their relationship.
Mr Sampa said he had received emotional support from Dr Kaseba from the time he contested the elections at the second conference.
"I would also like to thank uncle GBM (Geoffrey Mwamba) who has supported me from the time it happened. We have been talking, we have also been talking with uncle Bob (Sichinga)," he said.
On claims of assassination, Mr Sampa said he had received information that he would be killed for his insistence to lead the PF into next month's election.
"I've information that there are some people who want to assassinate me, who want to poison me, who want to kill me," he said.
Times of Zambia