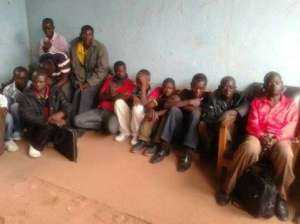 TWENTY-NINE FARMERS IN KASAMA HAVE BEEN ARRESTED FOR UNLAWFUL PROCESSION IN PROTEST AGAINST DELAYED PAYMENT FOR MAIZE SUPPLIED TO THE FOOD RESERVE AGENCY-FRA.
Confirming the development to Mano News this afternoon, Northern Province Police Commissioner Charity Katanga said the 27 men and 2 women have been charged with conduct likely to cause the breach of peace.
Commissioner Katanga said the farmers, who were carrying machetes and stones, were intercepted as they marched to FRA maize sheds to withdraw their maize while others attempted to storm the provincial permanent secretary's office.
She has since warned farmers to desist from violent behaviour in the quest to press for their dues.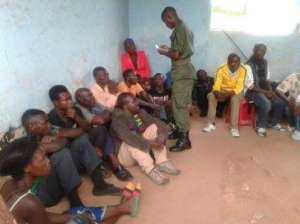 On Wednesday, angry farmers in Kasama threatened to demonstrate and withdraw the maize they supplied to FRA if they did not receive payment by yesterday.
However, acting provincial Permanent Secretary, Boniface Mbuzi yesterday pleaded with farmers NOT to go ahead with their planned protest urging them to be patient and peaceful.
Meanwhile, Mr Mbuzi this morning addressed farmers at the police station where he re-assured them that government would pay them in the shortest possible time.
In the pictures below acting provincial Permanent Secretary, Boniface Mbuzi addresses farmers who were later locked-up at Kasama Central Police Station today.