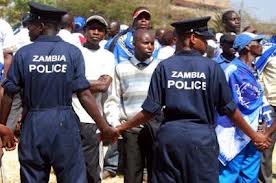 There was chaos at the MMD secretariat in Kabulonga this afternoon after some cadres suspected to be sympathizers of former Republican President Rupiah Banda and MMD President Nevers Mumba's cadres clashed.
Yesterday, supporters of Dr. Mumba attempted to disrupt the press briefing which was held by party National Secretary Muhabi Lungu at the secretariat.
A check by QFM News crew that rushed to the scene found police in full riot gear manning the MMD secretariat.
earlier, the police fired teargas canisters and disrupting unruly MMD cadres.
There has been confusion as to who stands on the MMD ticket which led to the suspension of party president Dr. Mumba.
Meanwhile, Forum for Peace in Zambia Director Job Nsama has told journalists in Lusaka that his organization is convinced that Mr. Banda is the only experience and mature person to lead Zambia.
Mr. Nsama believes that age is not the solution but wisdom and unity, is what the country needs in a leader.
qfm news