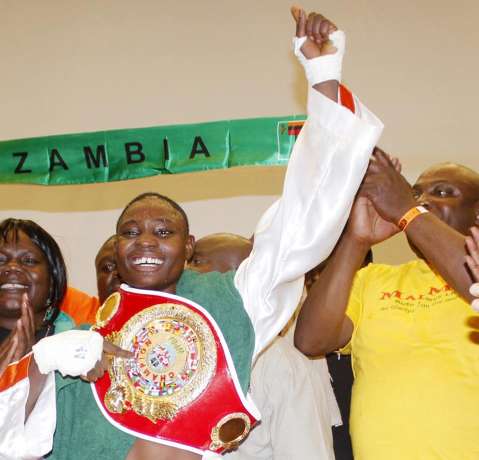 Sensational female boxer Catherine Phiri has retained her World Boxing Council-WBC silver bantamweight title after knocking out challenger Bukiwe Nonina of South Africa.
And Catherine has declared that she will give a go at the WBC main title.
Catherine finished off Bukiwe in the second round after unleashing successive punches to remain unbeaten after 10 professional fights.
Her victory left fans at Government Complex yearning for more, as earlier, WBC International welterweight champion Charles Manyuchi also successfully defended his title after pouncing Colombian Deivis Casseres.
Manyuchi won via technical knockout just after three rounds of the 12-round bout.
It was the first time that the two boxers were fighting after the death of president Michael Sata last month.
Catherine, before the fight, said she would defeat her opponent as a special tribute to the late president.
Image Credit : Zambia Daily Mail
Article : ZNBC