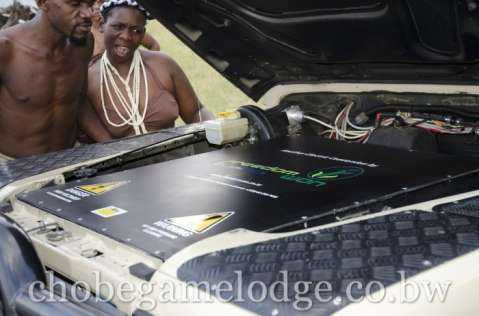 The special Electric Land Rover created by Freedom Won is a Defender 130" Pickup with Crew Cab. It was originally fitted with a 2.5L Td5 engine and a 5 speed manual gearbox. The model year is 1999 with serial no. 833359. It was modified for game viewing duty by removing the roof and installing three rows of three seats each with a canvas roof, making it an 11-seater.
The Land Rover has been transformed almost beyond recognition under the bonnet, but the exterior remains unaltered and distinctly Land Rover. The magic lies in the 80kW permanent magnet motor that is coupled directly to the original transfer case, which delivers 600N.m at low speeds thus effectively eliminating the need for a gearbox. We have retained the High/Low and Diff Lock functions in the transfer case so it is still a very rugged off-roader.
The motor is driven by an advanced technology inverter specially designed to run permanent magnet motors. This unit manipulates the 580 Volt (V) Direct Current (DC) power source into a precision controlled variable frequency three-phase Alternating Current (AC) sign wave, which in turn accurately and smoothly delivers the exact amount of torque "requested" from the driver to the motor.
The heart of this tamed beast is of course the long life and lightweight lithium iron phosphate cells. The battery pack boasts 35 kilowatt hours (Kwh) of energy and operates at a nominal 580V. This voltage, being relatively high in most people's books allows greater efficiency all-round, in the conductors, cells, inverter and motor. It also aids with preserving the expensive lithium cells for a longer life because the average current draw is well below the cell's design limit. Driving with such high voltages in your car might be disconcerting to some, but there are various features that contribute to a safe experience such as fully enclosed battery boxes, double layered insulation on power cables, fused power circuit and contactors that isolate the inverter when the vehicle is switched off.
The game viewing experience is very special, especially in the Chobe National Park where the game is abundant. The Chobe River presents the perfect setting among the famous herds of elephants, incredible birdlife, healthy population of lion and leopard and all the other wildlife that frequents the Chobe Riverfront. That is of course until the game guide starts up that rumbling diesel engine again and puffs black smoke over guest and game alike…enter Chobe Game Lodge and Freedom3, the first electric game-viewing vehicle in Botswana, and with Land Rover appeal to boot.
Freedom3 is the first of several electric conversions we have set out to accomplish with Freedom Won SA. It is capable of creeping along sandy rutted tracks and climbing rocky ascents, then setting out on the open road at speeds up to 120km/h.
Freedom3 will be used for two/three game drives per day, the traditional early morning and late afternoon drives around the park and along the river. Freedom3 will also be used daily to transfer guests to and from the Kasane International Airport, which is a 30km round trip. Each game drive amounts to a similar distance.
Given that most of Freedom3's driving will be on sand tracks a typical range is estimated at 120km. On the open road she will manage 150km if driven carefully – remember she has a large drag coefficient with all the guest seating paraphernalia mounted on her.
In Freedom3's off time she will be receiving a charge in the lodge's dedicated Electric Vehicle (EV) charging bay, which takes prime location in front of the lodge. A simple 30 ampere (A) 230V single phase source is all that is required to power up the 5kW charging system, with all control managed on board by the advanced Battery Management System (BMS). An average charge will be two to three hours, although if Freedom3's cells have been fully depleted she will need 6 hours to 'fill her tanks'. T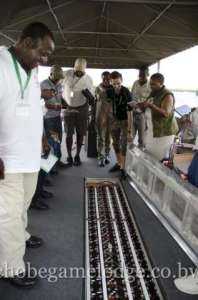 The electricity consumed at Chobe Game Lodge originates from the Victoria Falls hydroelectric power scheme and is thus environmentally friendly. Solar panels are however a natural "Phase II" proposition for Chobe Game Lodge and any other lodge not fortunate to have access to clean energy. Clean and quiet transport is not the only draw card for Chobe Game Lodge. We will achieve substantial savings in diesel consumption. There is no maintenance required on the EV drivetrain, so the difficulties of maintaining a vehicle in a remote area will also be reduced to looking after the Land Rover transfer case and differentials, which will inevitably leak some oil at some point.
We have found Freedom3's performance to be superb. She accelerates faster than the original would have – we would say – and only stops at 120km/h because that is where the electronic limiter reminds us we are driving an open top Land Rover Pickup! The torque is adequate for most driving in Chobe National Park and low range will only be needed in rare and extreme circumstances. There is one improvement we seek however, the synonymous Land Rover final drive unit (differential) backlash shows up more than ever on an EV with instant motor response and no clutch!
Freedom Won was inspired over ten years ago to develop electric car conversions. Their prototype Freedom1, an electric Jeep Grand Cherokee, has been running since December 2011 and has covered 45 000km of 'almost free' driving. Freedom1 is expected to continue at this pace for 10 years before the batteries show signs of age and warrant replacement. Freedom Won are very excited about revolutionising environmentally conscious game lodge's transport, which is not limited to Land Rovers, they can convert almost any vehicle, and in fact have just completed Freedom4 which is the first electric safari boat on the Chobe River at Chobe Game Lodge. Forming part of the big launch of the first electric safari fleet in Africa that took place on the 7th November 2014.
For more information about the opportunities of moving to electric game-viewing vehicles and boats feel welcome to contact owner Antony English [email protected] or visitwww.freedomwom.co.za
Source : http://www.chobegamelodge.co.bw/blog/birth-freedom3-chobe-game-lodge-first-electric-game-drive-vehicle/