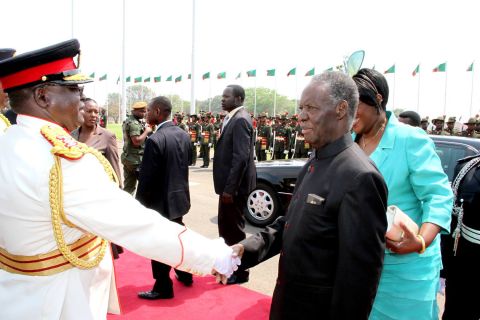 Michael Chilufya Sata was a highly pragmatic and visionary leader. While his reign at the epitome of our national leadership was brief, his legacy goes beyond in both directions of time.
The older generation will remember how in various portfolio, he brought about lasting changes that many of our populace lived to appreciate.
It was not a surprise to many of us to see how he managed to maintain the momentum of economic growth birthed during the time of President Levi Patrick Mwanawasa and carried on by President Rupiah Banda. His government steadied our annual inflation rate to 8.0% as at August 2014 according to a Monthly Bulletin by the CSO.
The GDP of USD$22.3Bn and a growth rate above Sub-Sahara Africa and low middle income countries although the GNI per capital was below Sub-Sahara and low  middle income countries.
I would have loved to reflect upon the recent stats of the poverty count ratio. I leave other experts to delve into the same.
Zambia's HDI has been increasing over the years. Between 1980, and 2014, a growth of 33% has been attained. The recent score of 0.561 (2013) was attributed to improvements in the standard of living measured by GNI per capita expressed in dollars using purchasing power parity, improved life expectancy and mean years of schooling among other HDI indicators.
HE MC Sata also presided over a nation that saw proliferation of various infrastructural developments and improvements from schools, clinics, hospitals to road networks.
He will be remembered for among other things:
having presided over a nation that saw the rebasing of its currency which reflected the true worth in relation to other foreign currencies. In spite of swings here and there, which is typical of most currencies with the exception of the British Sterling, the kwacha has remained competitive for a protracted period and it continues to do so
the renaming of our main international airports in honor of our first President Dr Kenneth Kaunda, and Levi Patrick Mwanawasa
the creation of an extra province and
moving of provincial HQs for Sothern Province for administrative convenience
attracting more FDI into the country et cetera
Whichever way one looks at the economic status of Zambia today, there is overwhelming evidence to prove that growth has been recorded to enviable proportions – thanks to the robust and able leadership of my fallen leader HE MC Sata, even our President to whom I pay especial tribute.
By  Elarm Chalusa