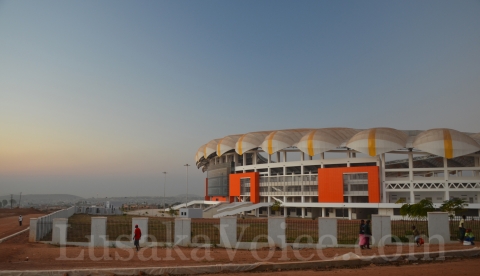 THOUSANDS of people from all walks of life gathered at Heroes Stadium on Thursday night to witness Zambia's attainment of 50 years of independence.
The occasion was graced by acting republican President Edgar Lungu.
Mr Lungu arrived at the stadium to a thunderous welcome at 22:45 hours, clad in Chitenge regalia with Zambian colours, a red Barrett and a matching walking stick.
He was met by service chiefs and some Cabinet ministers.
Visiting heads of State and governments started arriving at the stadium earlier and were met by Cabinet ministers.
The night was characterised by colourful, well-choreographed displays by artists, coupled with music and dance.
The Zambia army was also on hand to take part in the displays.
Towards midnight, hundreds of young children ran onto the pitch with colourful balloons which they released into the night air to create a beautiful rainbow of colours in the centre of the stadium.
A military officer raised the national flag and at exactly a minute before midnight the lights in the stadium were switched off to reveal a huge fireworks display and confetti.
This sent the audience into frenzied celebrations and festivities continued for more than an hour after midnight with music and dance.
The acting President left the Heroes Stadium after midnight amid tight security and was soon followed by first Republican President Kenneth Kaunda after he received a standing ovation from the gathered crowd.
Festivities at the stadium continued at the stadium yesterday amid pomp and splendor, with more than 20 former and current heads of State and governments in attendance.
Notable among the former presidents, were South Africa's Thabo Mbeki and Mozambique's Joaquim Chissano.
Times of Zambia