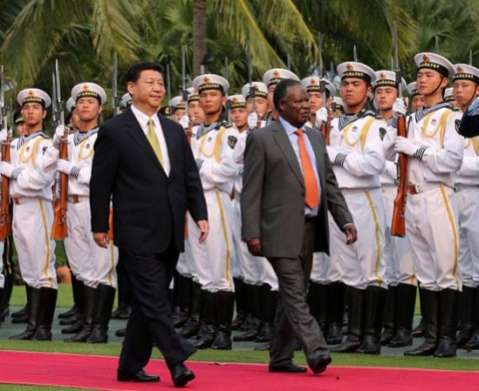 The Chinese government has wished Republican President Michael Sata a quick recovery.
Head of the Chinese government delegation to the 50 years Golden Jubilee celebrations, Zhang Xiangbapingcuo, says the Chinese government sends warm greetings to Zambian people as they commemorate 50 years of God's favor.
Speaking when he together with his delegation paid a courtesy call on Republican Vice President Guy Scott this afternoon, Mr. Xiangbapingcuo says it is pleasing that Zambia and China have accommodated each other in terms of social and economical development.
Mr. Xiangbapingcuo who is also the Vice Chairman of the Standing Committee of the Natioonal People's Congress adds that the Chinese government is happy to be part of Zambia's 50 years independence anniversary and hoped for strengthened ties.
He points out that on 29th October, Zambia and China will be celebrating fifty years of cooperation an indication of the cordial relations the two countries have enjoyed.
And Republican Vice President Guy Scott says the Zambian government appreciates the contributions of the Chinese government towards the Jubilee celebrations.
Dr. Scott has also noted that the Chinese people have massively contributed to the growth of the mining, health, agriculture and manufacturing sectors.
QFM News Zambia