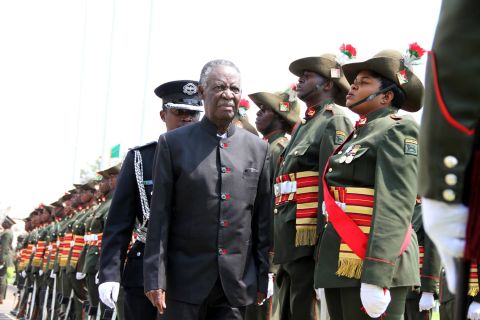 A consortium of civil society organizations in Zambia has petitioned cabinet ministers to advise President Michael Sata to go on vacation to address his reported ill health, in order to enable the leader to effectively administer the rigorous affairs of the country.
Lewis Mwape, Executive Secretary of the group, said Zambians have expressed concern about Sata's alleged poor health after he failed to deliver a scheduled speech at last month's United General Assembly in New York. New York Police say Sata was treated by State Department doctors in his hotel, but was not hospitalized.
In a speech to Zambia's parliament, however, Vice President Guy Scott denied the president received medical treatment in New York. Scott said Sata's health is "entirely normal" and that the president did not receive any emergency or specialized medical treatment.
Mwape disagreed, saying the president's ill health has been poorly managed.
"We know [Sata] as a vibrant person, and so whenever we see some kind of withdrawal from public service we feel that maybe there is something wrong. From the look of things we feel that there is something wrong, which the state is hiding from the Zambian people," said Mwape.
He said it is imperative for Sata to seek medical treatment away from the job.
"If there is something wrong, you need to take leave and resume work when you are feeling well, that is our demand," said Mwape. "We feel that maybe the cabinet ministers are not doing a good service to the president. Because they are there to advise the president, and they are also there to guide the president so that the president comes to work when he is okay."
Supporters of the ruling Patriotic Front party dismissed the civil society groups' demand, though, as politically motivated to undermine the governing party ahead of the next general election.
The supporters said opposition and civil society groups appear to be celebrating the head of state's alleged poor health. They contend that Sata deserves the respect of the office, insisting he alone has the sole right to determine when to go on vacation or seek medical attention.
Mwape said the demand for Sata to seek medical attention is not borne out of malice.
"We are asking the current cabinet ministers to be more responsive on this issue so that the president is guided well, so that he is able to go on leave, because when he is on leave he is going to gain momentum, he is going to be well," said Mwape.
Clottey interview with Lewis Mwape, Executive Secretary of Zambia Civil society Consortium
Voice of America http://www.voanews.com/content/zambia-group-petitions-presdient-to-take-vacation/2480214.html