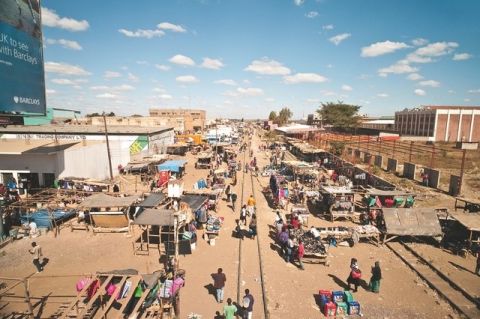 Why Lusaka?
Some cities hold visitors at arm's length; Lusaka welcomes them with open arms. Stop to ask directions and you're often personally escorted to your destination. Knock on the wrong door and you'll be invited in for tea. Everyone, from vegetable-sellers by the side of the road to taxi drivers, has time for a conversation.
The city's friendliness is no accident. Zambia's bloodless independence was ushered in with the slogan "One nation, one people" and this sense of togetherness has contributed to the country's stability in the past half-century.
Many visitors who come to Zambia bypass the capital and fly straight to its famous game parks, but those who stay discover a city that thrives on creative cottage industries. Spacious bungalows in residential areas have been converted into restaurants and boutiques for handcrafted jewellery, clothing and pottery. With three million people and a growing middle class, shopping centres like the Levy Junction downtown are bursting with expanded retail offerings.
Zambia is situated in southern Africa, which has so far been unaffected by the Ebola virus in the west of the continent. It has banned travellers from affected countries from entering.
A comfortable bed
The boutique hotel Eight Reedbuck (www.tribehotels.co.zm; 00260 211 264 788) offers 10 suites filled with artefacts from Zambian tribes, assembled in a modernist style. Choose the Ngoni Warrior Suite or the Lozi Chief Suite and enjoy a private garden or a whirlpool bath. Doubles from 1,650 Zambian kwacha (Dh1,010) per night, including taxes.
The location of Protea Hotel (www.proteahotels.com; 00260 211 254 664) in the Arcades mall offers nightlife options on cool Lusaka evenings. The family-friendly, 100-room hotel has a top-floor restaurant/bar with great views of the city. Doubles from 1,242 kwacha (Dh760).
Find your feet
Under jacaranda and sausage trees, take a morning walk with a small herd of elephants at Lilayi Lodge (www.lilayi.com; 00260 211 840 435), a 40-minute drive to the south. Learn about the elephant orphans' dramatic rescues while watching them eat lunch and frolic. Each story, from orphaning to rescue, is a kick to the heart. The Lodge's African-fusion restaurant uses game meat such as impala and organic vegetables grown onsite. Yoga retreats and photography exhibitions are held on weekends.
Meet the locals
Handmade items from silver spoons inlaid with beads to wrought-metal furniture are displayed at the Dutch Reformed Church on the last Saturday of each month. Haggling is as integral to the experience as socialising, with a grilled beef boerewors on a bun to fuel the experience.
Try the Farmers' Market (St Peter's Anglican Church on Burma Road) for an authentic, open-air experience, every Tuesday from 6.30 to 11.30am. Wander the crowded stalls to find local honey, home-made tofu, imported fruit, second-hand clothes, Indian spices and freshwater crayfish at bargain prices.
Take the pulse of local politics at Bongwe's Barn in Roma, where a cross-section of expats and locals gather. No one remains a stranger for long in this easy-going watering hole, which also serves as the point of debarkation for safaris in Kafue National Park. Time your visit right and enjoy a roast dinner or live DJ.
Book a table
Vegetarians will be thrilled at the variety of innovative salads at The Deli (www.delizambia.com; 00260 977 846 689), bursting with pink beets and sugar snap peas. Pair the salads with a fillet steak, pâté and caramelised onion ciabatta (30 kwacha [Dh18]), and enjoy alfresco dining on the veranda. The home-made cinnamon buns melt in your mouth, but get there early – most items sell out before 1pm.
Consistency can be hard to come by in Zambia, but not at the Marlin Restaurant (00260 211 252 206), which has been grilling prime cuts of beef (120 kwacha [Dh74]) and smothering them in pepper sauce for more than 20 years.
Shopper's paradise
Bargain prices for handcrafted items can be found in local markets such as Northmead, but at Jackal & Hide (www.jackalandhide.net; 00260 979 628 757), the time and craftsmanship that goes into each one-of-a-kind bag is reflected in the prices, from 600 kwacha (Dh370) for a small bag to 3,000 kwacha (Dh1,850) for a larger travel bag. Lunch is served in the Sugarbush cafe under a thatched roof in a Cape Dutch-style farmhouse.
The Vala fashion collective (www.valadesignhouse.com; 00260 975 282 250) in Roma sells the work of local designers in a funky shop where the display shelves are recycled tomato crates. Sewn from bright, intricately patterned chitenge cloth, clothes for men and women in global styles start at 450 kwacha (Dh277). Custom orders can be filled within two weeks.
What to avoid
Driving or walking downtown on Cairo Road, especially at night, where tourists are often targeted for muggings. Daytime walking in other parts of the city is safe, as long as valuable items are not overtly displayed. Driving at night is risky, as many roads have no street lights.
Don't miss
The collection of works by local artists at stART gallery (www.thestartfoundationtrust.org; 00260 973 006 919) in Kabulonga. Many of the artists have held exhibitions in New York and London – this is a chance to see and buy their work at local prices.
Go there
A return flight with Emirates (www.emirates.com) from Dubai to Lusaka airport costs about Dh4,500, including tax.
Read more: http://www.thenational.ae/arts-lifestyle/travel/lusaka-zambia-is-an-alternative-taste-of-africa#ixzz3DjHy1IbB
Follow us: @TheNationalUAE on Twitter | thenational.ae on Facebook