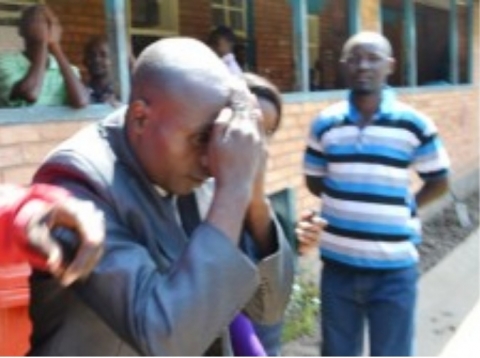 The two sureties for Holy Fire Ministries Bishop Dominic Nyondo who has been accused of sexual harassment of the Church members have been locked up for failing to avail the accused person before the Kitwe Magistrate Court.
Kitwe Resident Magistrate Daniel Musonda has since ordered the two sureties Lloyd Kasingili and Chrissy Milimo to pay 5 thousand Kwacha each as one of the bail conditions.
Magistrate Musonda states that the two sureties should be committed to prison for four months each if they fail to raise the 10 thousand Kwacha.
He said the two have not adduced evidence to prove that Bishop Nyondo is actually dead.
But the two sureties have maintained that the accused person is dead and that he left a suicide note.
The two told the Court that the family members discovered a T-Shirt of Bishop Nyondo near the river where he is believed to have committed suicide.
And the prosecution led by inspector Juma Banda has applied for a bench warrant returnable on October 8, 2014 against Bishop Nyondo.
This means that should Bishop Nyondo fail to avail himself in court on October 8, 2014, he will be arrested for contempt of court.
Magistrate Musonda has granted the application and adjourned the matter to October 8 for continued trial.
ZNBC