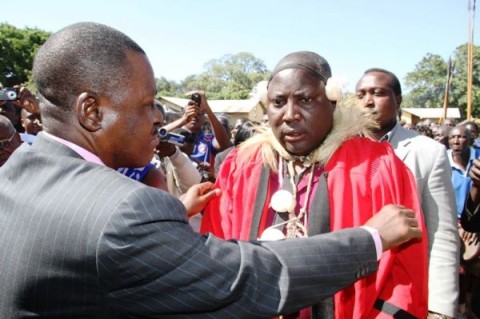 Republican Vice president Guy Scott has expressed ignorance about former Justice Minister and PF Secretary General Wynter Kabimba's parliamentary status following his sacking by President Michael Sata last week.
Mr. Kabimba was a nominated Member of Parliament.
Dr. Scott has told Qfm news in an exclusive interview that he has no idea as to whether Mr. Kabimba has also been stripped of his nomination as an MP or not.
Dr. Scott says as Republican Vice President he is not part of such Presidential decision making.
He however says he does not think that it is automatic that once a nominated MP has been dismissed from the position as a Minister the individual also ceases to be a nominated MP.
Dr .Scott says this is because the country's constitution provides that the President can nominate anyone to be an MP whether that individual is to serve as Cabinet Minister or not.
And Dr. Scott has observed that it is normal in a Democracy like Zambia for an individual who has been dismissed as Minister to be criticized in the manner Mr. Kabimba is being criticized following his sacking.
He however states that he is not agreeing with anyone in particular among the people who have been commenting on Mr. Kabimba's firing, but that he thinks he would receive the same kind of criticism or praise from all kinds of people if he too was to be fired as Republican Vice President.
Dr. Scott says he also thinks the fact that people have been criticizing Mr. Kabimba, while others have been defending him means that the former PF Secretary General was well known and an active politician.
Asked whether Mr. Kabimba's dismissal has brought disunity or unity in the ruling PF, Dr. Scott stated that as far as he is concerned the ruling PF has always been united.
He says this is why he is not worried about unity in the ruling PF following Mr Kabimba's dismissal.
( Saturday 06th September 2014 )
QFM NEWS