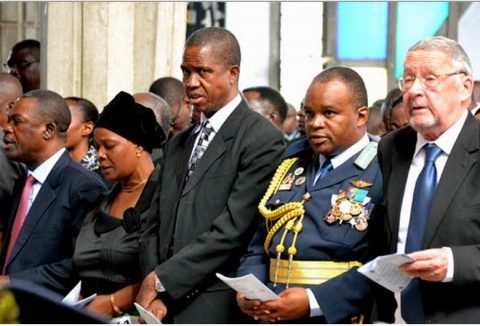 Deputy Minister of Gender, Esther Banda has welcomed the appointment of Edgar Lungu as new Justice Minister.
Ms Banda adds that the appointment of Mr Lungu as the new Patriotic Front (PF) Secretary General by Republican President Michael Chilufya Sata will have positive impact to the country.
Speaking in an interview with ZANIS news in Lusaka Aug 29/14, Ms Banda Banda expressed happiness over the firing of the former Justice Minister and PF Secretary General Wynter Kabimba.
The deputy minister, who is also PF National Women Chairperson, said the decision has brought joy not only to the majority of Zambian men but to women as well.
She further said the interference that was experienced by most women in leadership will be a thing of the past as women will be allowed to play their roles.
Ms Banda stated that Mr Kabimba created division in the party and hence his removal will restore the promises made by the party before he joined the Patriotic Front.
Mr Kabimba's dismissal was confirmed in a statement released to ZANIS in Lusaka Aug 28/14 by Special Assistant to the President for Press and Public Relations, George Chellah.