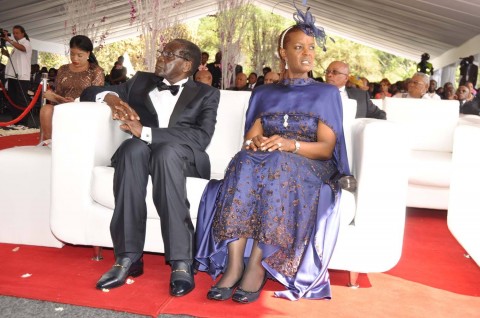 The wife of Zimbabwe's President Robert Mugabe has entered politics after being endorsed to become head of the ruling Zanu-PF party's women's league.
Grace Mugabe, 49, will take over the role in December at the party's annual congress.
The BBC's Brian Hungwe in Zimbabwe says the post will allow Mrs Mugabe to sit on Zanu-PF's powerful politburo.
There has been tension in Zanu-PF over who should succeed Mr Mugabe, who was re-elected president last year.
Robert Mugabe, 90, has ruled since independence in 1980
Mrs Mugabe was officially recommended to become the national secretary of the Zanu-PF women's league at its elective congress, which has been taking place in the capital, Harare.
The gathering was addressed by her 90-year-old husband, who has governed Zimbabwe since independence in 1980.
She is his second wife and used to be his secretary.
The couple married in 1996 and has three children.
Her entry into politics is likely to fuel further tension over Mr Mugabe's succession.
Radio Mano