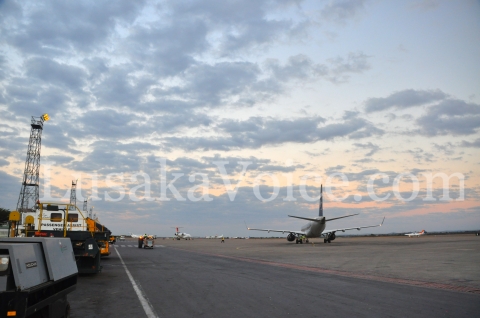 MINISTER of Transport, Works, Supply and Communications Yamfwa Mukanga has directed all provincial administrations to remove squatters who have encroached on airport land countrywide.
Mr Mukanga said in Lusaka yesterday that squatters are making it difficult for Government to expand and upgrade airports.
Mr Mukanga has received reports that squatters have encroached on most airport land across the country and the situation requires urgent attention.
He warned that squatters might take up most of the land and will be difficult to control of the encroachment is not urgently curbed.
"I am directing all provincial administrations to help us fight this vice by evicting all encroachers on airport land," Mr Mukanga said.
He said the land must be reserved for airport expansion projects and that it will be required in future.
"We do not want to wait for people to finish their structures before we move in to demolish, that is why the provincial administrations have to move in now," Mr Mukanga said.
And the minister said works to upgrade Airports across the country are progressing well.
Mr Mukanga said works at Kenneth Kaunda International Airport are moving according to schedule and works are expected to be completed by 2016.
He said upgrading of Harry Mwanga International Airport is almost complete and that only two percent is remaining.
"We want to ensure that works are done according to plan," he said.
Mr Mukanga said works to upgrade Kasama Airport have also started at a cost of K141 million.
He said Government is sourcing for funds to work on other airports.
"Works will be done in phases until we have upgraded all the airports in the country," he said.
Zambia Daily Mail