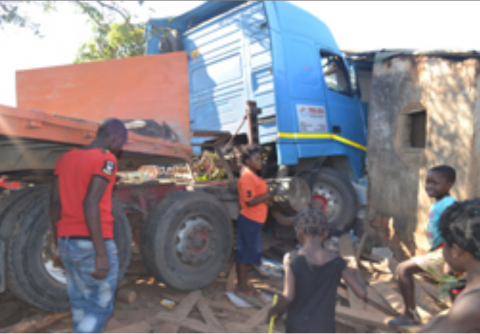 The Zambian Road Safety Trust (ZRST) has observed that road safety in Zambia is rapidly becoming an obstacle to competitiveness and development in the country to an extent of exceeding the impact of HIV/AIDS.
ZRST board chairperson Daniel Mwamba says this is due to the fact that Zambia has an extremely high rate of road fatalities and that road safety management structures are still not sufficiently robust.
Mr. Mwamba has told Qfm news in a statement that although Zambia has less than 0.02 percent of the world's registered vehicles, the country has almost 14 times the proportion of fatalities from road traffic crashes.
He notes that in spite of the low motorization, Zambia's road related fatality rate of 32.2 per 100,000 is the world's highest and that fatality rates per vehicle in the country are about a hundredfold higher than those of well performing regions.
The ZRST board chairperson adds that it has also been established that over 65 percent of those affected by road traffic crashes in the country are the vulnerable road users that include pedestrians and cyclists.
He says unless drastic measures are put into place, indications are that Zambia's projected growth in motorization would increase road crashes by 68 percent by 2020.
Mr. Mwamba says it is for this reason that his Trust intends to identify the factors that lead to road casualties, understand how they affect each other and how they can be changed with the view of recommending a safer road environment, safer vehicles and safer road users in the country.
He says this safe systems approach includes designing roads and vehicles so that they minimize the risk of crashes occurring, and ensure that when they do occur, they are much less likely to result in death or serious injury.
Mr. Mwamba says his Trust's plan is to work towards the goal of freeing Zambia's roads from death and serious injury cutting the number of those killed or seriously injured by 50 per cent by 2020.
He says this will be achieved by employing a two pronged approach to tackle issues in road safety of improving road safety management in a comprehensive way and introducing bolder measures to deal with the safety of vulnerable road users.
Qfm News Zambia