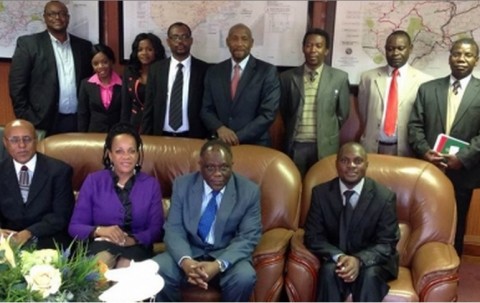 ONE Chinese proverb says: "A journey of a thousand miles begins beneath one's feet."
Finally on June 26, 2014, the Zambian Society for Public Administration (ZSPA) was officially launched by Secretary to the Cabinet Roland Msiska at Chrismar Hotel in Lusaka.
The society was formed in 2013. It is the professional association for persons involved in policy analysis, policy research, local government administration, public administration and management.
ZSPA is a voluntary, non-profit, member-based organisation that enables people to exchange ideas on trends, practices and innovations.
It aims to promote good governance and encourage service excellence in public service in Zambia.
Acting President Wynter Kabimba noted that the launch of ZSPA was a milestone for Zambia and that Government has welcomed the formation of the organisation. Mr Kabimba noted that there is need to support the organisation so that it delivers on its mandate.
He encouraged the organisation to work hard and ensure that it works within its mandate.
Mr Kabimba applauded the initiative by the ZSPA to jointly host the conference on good governance with CIMPAD in June next year.
He was speaking when ZSPA and CIMPAD board of directors paid a courtesy call on him at his office.
Launching ZSPA, Dr Msiska said Government was excited that at the time Zambia was celebrating the golden jubilee, an organisation of great importance was being launched as well.
He said Government was pleased to see that public administrators had come together so that they could help ensure there is service excellence in public service in Zambia.
He appealed to Zambians to pay particular attention to good governance and service excellence in public service.
Poor governance was increasingly being cited as one of the factors contributing to unsatisfactory economic growth and human development in Zambia and other parts of Africa.
Dr Msiska challenged Zambians to embrace service excellence.
He appealed to Zambians to reflect on the vision and ambition of Zambia's founding fathers, stressing that reflecting on the vision of the founding fathers was cardinal in the development of Zambia.
Dr Msiska urged Zambians to stand out and promote service excellence just like the eagle on the national flag.
Speaking earlier, visiting past president of the American Society for Public Administration (ASPA) and founder of the Consortium of International Management, Policy and Development (CIMPAD) Dr Harvey White said American organisations such as ASPA, Conference on Minority Public Administrators (COMPA) and National Forum for Black Americans and CIMPAD supported the establishment of ZSPA in Zambia.
He said that many American public administrators were pleased to see the establishment and were ready to embrace all efforts that would be centred on the success of the organisation.
Meanwhile, Dr White advised ZSPA to be focused, promote service excellence in public service, and ensure that it did not disappoint the Zambian people.
Later in the day during the public lecture, his worship the Mayor of Lusaka Mr Mulenga Sata said he was happy to note that ZSPA had also incorporated local government administrators in the organisation.
He congratulated the organisation on the noble cause. He said that he welcomed the organisation and implored the members to support the transformation that was being undertaken by Lusaka City Council.
Other organisations that applauded the launch of ZSPA were the University of Zambia (UNZA), Zambian Open University (ZOU), University of Lusaka (UNILUS) and National Institute for Public Administration (NIPA).
We are hopeful that the establishment of a professional body for public administrators will help improve service delivery in the country.
The author is president of the Zambian Society for Public Administration and Society for Family Business.
Zambia Daily Mail