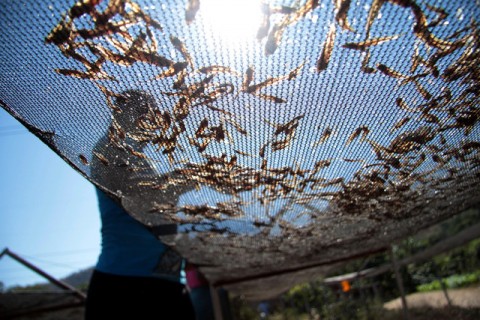 By Godfrey Marawanyika
While Zimbabwe and Zambia squabble over fishing rights in the world's biggest dam, an invasion of Australian crayfish and Nile tilapia is threatening to wreak havoc with Lake Kariba's indigenous species.
Built in the 1950s the 280-kilometer (174-mile) long reservoir hosts an industry that today has more than 1,100 commercial boats that hunt shoals of three-inch-long Tanganyika sardines, known locally as kapenta, at night. While the fish were introduced in the 1960s, they haven't harmed local species. Populations of Nile tilapia and Australian redclaw crayfish, which escaped from fish farms, may be causing more damage.
The boat fleet is more than double the recommended number on the lake, yet catches on the Zimbabwean side have plunged by more than half over the last two decades.
"The problem we face is that of unscrupulous fishing by some operators and the uneven numbers of fishing rigs between the two countries," Zimbabwe's Environment and Water Affairs Minister, Saviour Kasukuwere, said in a June 16 interview. "This is an urgent issue which must be addressed because the problem is over fishing. The other problem is the invasion of this crayfish which must be addressed as a matter of urgency."
Under a 1999 agreement Zimbabwe has the right to 55 percent of the boats on the lake, whose kapenta population can support 500 rigs, Zimbabwe Parks said in an e-mailed response to questions.
In 1999 there was a combined total of 605 rigs, according to a research paper by Loveness Madamombe of the Norwegian College of Fishery Science at the University of Tromso. A year later Zambia had 185 licensed boats in 2000, the United Nations Food and Agriculture Organisation said.
Bright Lights
The kapenta, which are attracted using fluorescent lights then scooped up in round nets, are dried and sold in both countries as a cheap source of protein. Currently Zambia has 725 kapenta boats, or rigs, on the lake, while Zimbabwe has 406, according to the Zimbabwe Parks and Wildlife Management Authority.
Kariba, which lies on the Zambezi River, covers 5,580 square kilometers (2,155 square miles) and can hold 185 billion cubic meters (653 billion cubic feet) of water, according to Water-Technology.net.
As recently as 2005 rigs could harvest between 600 kilograms and 700 kilograms of kapenta a night, while now 120 kilograms to 150 kilograms is the norm, Loveton Chareka, a sales representative at Leework Enterprise Ltd., a fishing company based near Kariba Town, said in an interview.
"Nothing seems to be improving," Chareka says as he surveyed the catch, flanked by five workmates. "There is no more kapenta to talk about here, there are too many boats, too much fishing not just on the Zimbabwean side, but even on the Zambian side."
Plunging Catch
The total kapenta catch in Zimbabwe is forecast to fall to 8,500 metric tons this year from 8,746 tons last year, according to Zimbabwe Parks. That compares with a record catch of 19,957 tons in Zimbabwe in 1993 and a record combined catch of 28,843 tons that year, Madamombe said in the research paper.
Zambia is supposed to cut its number of rigs by 50 a year over the next decade while Zimbabwe will reduce its fleet by 13 a year, according to Zimbabwe Parks. The countries will conduct an acoustic survey later this year to assess the total population.
Still, enforcement of fishing rules is lax.
"People are fishing during the full moon and look what has happened now? The fish are gone." said Stella Beka, who helps dry fish at Leework, in an interview. "Back in the days the government and national parks used to enforce to make sure that there was no fishing when there was a full moon. These days nobody cares."
Unlicensed boats without lights fish during the full moon when the fish come to the surface.
Bigger Tilapia
While both sides have too many boats the Zimbabwean side is better regulated, Kennedy Siabuwowa, a hotel worker in Zambia who quit kapenta fishing because of the low catches.
"They have good controls for fishing," he said from Siavonga, on the northern shore of Kariba. "They normally follow the rules."
Patrick Ngalande, Zambia's director of fisheries, didn't answer calls to his phone or immediately reply to e-mailed queries.
At the same time, Nile tilapia are out competing the indigenous Kariba bream, according to Zimbabwe Parks. While the impact of the Australian redclaw crayfish, introduced at Zambian fish farms in 1992, is less clear, "it is a highly invasive species and can alter the ecosystem structure and processes of invaded waters," scientists from the University of Zimbabwe said in a paper in the African Journal of Aquatic Science.
Since January a number of kapenta fishing companies have closed, said Fridays Zondo, vice president of the General Agricultural Workers Plantations Union of Zimbabwe.
Company Closures
Kapenta Ventures Ltd. has closed while Kapenta Fishing Ltd., is now leasing its boats to employees, he said. Harrowel Distributors Ltd. has switched from Kapenta fishing to bream fishing, he said.
"The future for kapenta fishing is not looking good," Zondo said. "We have 20 labor cases right now because some employers have filed for retrenchment. Some employers have given their boats to employees, because they have given up."
To contact the reporter on this story: Godfrey Marawanyika in Kariba at [email protected]
To contact the editors responsible for this story: Nasreen Seria at [email protected] Antony Sguazzin, Karl Maier